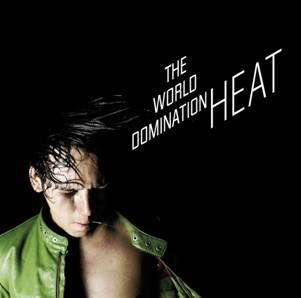 There is a thin line between genius and madness, and both were involved when 666Val and Ringo Fire approached musical world domination in 2004. Their chosen weapon was their very own over-wound and utopian take on the classic pop duo concept. The World Domination are a bona fide child of the 21st century, fusing German electronic pop music with the megalomaniacal world of T.Rex, ZZ Top and AC/DC's super rock riffs with a vengeance.
The unique combination of electro beats, vintage synths, rock guitars and their own over-the-top attitude, make The World Domination "Gurus of Electro Glam", while gracing this planet with unheard of sweaty and absolutely clubtastic sounds. They spectacularly reveal the shortcuts between proto punk and disco sleaze, glam rock and techno, high gloss and city dump.
Shortly after their first release and during numerous live shows the band is thrilling concert-goers, DJs and other night-chasers all over the world. Be it Berlin, Moscow, St.Petersburg, Halberstadt, Amsterdam or New York City, wherever they appear, nobody defies the bizarre charm of their Dionysus performance. The World Domination act like Genghis Khan's Mongols used to: They take the capital city with them when they depart!
One of their many fans is none other than British Rave and Acid legend Adam Sky (aka Adamski). Together they produced the ultimate electro glam floor filler, "Galactic Lover" (advance single now available on album, "Heat").
French hipster label, KITSUNÉ, released "Galactic Lover" in fall 2006, on the "Maison Kitsuné Compilation" as well as a 12" maxi single. The track is frequently played on BBC Radio One and German neo pop protagonist NORTHERN LITE invite TWD to support them on their 35 dates "Unisex"-tour 2006-2007. The World Domination are irrevocably on their way to the major league of European electro rock.
Now their debut on 1st decade records, as paradoxically consequential as everything the dynamic duo does, "HEAT", is a collection of aggressive pop tracks that are not above a certain catchiness. "HEAT" - the newest manifesto of Electro Glam. Hitting the spot, yet stylistically excessive. "HEAT" is heading for the future, while riding on the ghost train of pop music, on acid, with high beam headlights glaring.
Discography:
"The Big One" 2004 (longplay) La Poussiquette records
"Land Of Cockaigne" 2005 (12" Maxi) Metropol Division records
"Runter mit dem Höschen" 2006 (12" Maxi) Pogo Pop records
"Galactic Lover" 2007 (12" Maxi) Kitsune
Compilations:
Neo Pop 06 (Galactic Lover)
Berlin Insane 04 (Let It Out)
Maison Kitsune 03 (Galactic Lover)
Neo Pop 07 (Land Of Cockaigne, Jesus Christ I Feel Alright)

Source: Newsletter