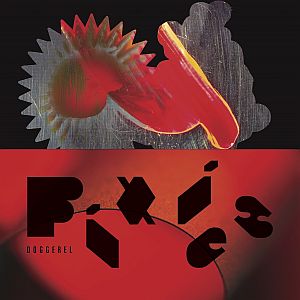 Doggerel (daw-ger-uhl): loosely styled and irregular in measure especially for burlesque or comic effect; also: marked by triviality or inferiority - Merriam-Webster
Having enjoyed massive success as Alt Rock pioneers before the turn of the millennium - including three top 10s in the UK Albums Chart - PIXIES have racked up another UK chart hat-trick since reuniting in 2004. These days, their hauntingly dark sound is paving its way again: The eighth studio album 'Doggerel' will be released on September 30 by BMG. Pre-orders are now possible (https://pixies.ffm.to/doggerel). Parallel to the announcement of the long player, whose title in German means 'bumpy' (as well as 'Knittelvers'), the band presents the first single 'There's A Moon On'. Listen now: https://pixies.ffm.to/theresamoonon.opr.
'Doggerel' sounds more mature and no less (haunting) in the process: abysmal Folk sound meets opulent ballroom Pop and brutal Rock, fueled by past missteps and affairs, by cosmic forces and the idea of a digital life after death, to fill this void in divine providence. At the same time, a new storm is brewing in the news with each passing day. "We've definitely grown," says guitarist Joey Santiago. "The songs aren't under two minutes long either. There are small breaks now, more classical arrangements - but of course we still give the songs our very own twist." "We wanted to do something that sounded really big and bold - and also had a clear orchestration," comments singer/guitarist Black Francis. There are other ways to express yourself... there are other ways to capture that special energy that makes us who we are."
Said energy can already be felt on the new single 'There's A Moon On', when they fill the grey area between classically shrill PIXIES guitars and Old School Rock sound. In terms of content, the song oscillates between fact and legend by addressing the effects of the moon cycle on the human psyche - and the adrenaline level obviously rises during the full moon phase: After all, the drunks at Francis' brother's bar are becoming increasingly restless and aggressive.
On the new album, PIXIES repeatedly marry the abysmal and the beautiful: 'Haunted House' tells a Pop foundation with a fifties touch about ghosts that sometimes seem metaphorical, sometimes very real; the introspective desert Rock of 'Vault Of Heaven' is reminiscent of Morricone, and the 'Pagan Man' comes along comparatively light-footed with its Folk Rock melody. On the other hand, PIXIES still have the same heaviness, the same unbridled energy: You can hear that in the surrealistic sweep of 'Nomatterday' or THE WHO-esque rehash of 'Dregs Of The Wine', which is sure to be the band's first and last song, in which even Van Halen are named.
The genesis of 'Doggerel' was also very different than usual: instead of developing initial ideas in the studio, Black Francis brought 40 ready-made song ideas to the sessions. It all started in late 2021 with producer Tom Dalgety (ROYAL BLOOD, GHOST): Dalgety and Francis first worked in Massachusetts before moving on to L.A., where the actual recording took place with the entire band. Nevertheless, the other band members also contributed important input to the sessions: For example, for the first time Santiago is also on two tracks as a songwriter in the credits - for composition ('Dregs Of The Wine') and for lyrics ('Doggerel'). The drummer David Lovering and the bassist Paz Lenchantin provide an extremely powerful foundation - no wonder: they both emphasize that the changed approach has released completely new energies.
Parallel to the digital release, 'Doggerel' will also be available in different physical configurations. Several coloured gatefold versions are planned on vinyl: In addition to the standard edition in red, there is also yellow vinyl (available exclusively in selected stores) and orange vinyl (only available in the official Pixies store). There is also a tape edition in red in the band's official store. The LP and MC formats are flanked by a deluxe CD edition.
While 'Indie Cindy' (2014) could be considered an indirect sequel to early landmarks 'Bossanova' (1990) and 'Trompe Le Monde' (1991), and follow-up 'Head Carrier' (2016) shares some of the darker tunes of 'Surfer Rosa' (1988) and 'Doolittle' (1989), the most recently released album 'Beneath The Eyrie' (2019) and the forthcoming 'Doggerel' are two long players that defy and transcend any kind of expectation or tradition. You can hear the PIXIES DNA in these albums, but rather than being overly committed to that legacy, they mostly mark a next step.
The upcoming UK tour of the PIXIES combines appearances at the biggest open airs in England (including Manchester, Birmingham, Newcastle) and an appearance at BST Hyde Park (as a guest of Pearl Jam). All dates can be found on the band's website (see below)
Pixies - 'Doggerel'
Label: Infectious/BMG
Distribution: ADA-Warner Music
Release Date: Sep 30, 2022
Tracklist

01. Nomatterday
02. Vault of Heaven
03. Dregs of the Wine
04. Haunted House
05. Get Simulated
06. The Lord Has Come Back Today
07. Thunder & Lightning
08. There's A Moon On
09. Pagan Man
10. Who's More Sorry Now?
11. You're Such A Sadducee
12. Doggerel
On tour in July

July 1, 2022 - Berlin | Pure & Crafted
July 30, 2022 - Cologne | Weltstars auf dem Roncalliplatz
July 31, 2022 - Freiburg | Zelt Musik Festival
Source: Press Release