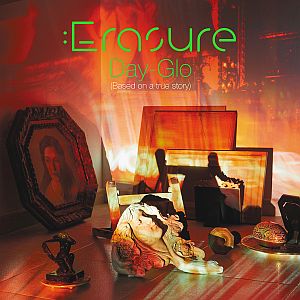 Andy Bell and Vince Clarke aka ERASURE will release their new album 'Day-Glo (Based on a True Story)' on August 12th, 2022 on Mute. Available on fluorescent green vinyl, CD and digital, pre-order here: https://mute.ffm.to/erasure_day-glo
'Day-Glo (Based on a True Story)' is an unexpected album with brand new tracks, which are based on the sound cosmos of their last album 'The Neon' - at the same time familiar and unexpected, if you will. A first chapter from 'Day-Glo (Based on a True Story)' can be heard here, more will follow before the album release:
Finding himself with plenty of unfilled time in his studio a while ago, Vince Clarke began editing tracks from ERASURE's acclaimed 2020 album, 'The Neon'. With no particular goal in mind, a hidden landscape gradually crystallized within the tracks - one that revealed a track within a track, another world within 'The Neon'. Clarke continued to explore this hidden terrain, developing the musical basis for the tracks that will now be released as 'Day-Glo (Based on a True Story)'.
Andy Bell, in turn, took Clarke's tracks into his studio and began working on the vocal parts along with Gareth Jones. The result is an album that on the one hand sounds unmistakably ERASURE, yet retains an improvisational character, a sort of collage that forms into a coherent album that bears little resemblance to the original material - although from time to time there are unquestionable echoes of 'The Neon' can be heard.
At the same time, the release marks the end of the long chapter of 'The Neon' in ERASURE's oeuvre and shows two completely different sides of the band as a reflection of their core themes of love, understanding and positivity. It's an alternative look at the world of ERASURE, if you will.
Tracklist

01. Based on a True Story
02. Bop Beat
03. Pin-Prick
04. The Conman
05. Now
06. Inside Out
07. Harbour of My Heart
08. 3 Strikes and You're Out
09. The Shape of Things
10. The End
Source: Press Release