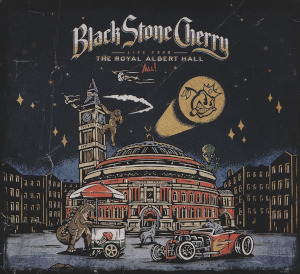 BLACK STONE CHERRY just released 'Live From The Royal Albert Hall... Y'All' on Mascot Records / Mascot Label Group. To coincide with this ground-breaking performance, they released the live video for 'Blame It On The Boom Boom', one of the standout moments of the night. The band have also announced a joint UK headline arena tour with THE DARKNESS from January 28 to February 4, 2023 and will embark on an 18-date European tour in the autumn, starting in Cologne on September 12 and October 5 ends in Paris. Their label mates THE GEORGIA THUNDERBOLTS have been confirmed as support band and will be coming to Europe for the first time.
On Wednesday, September 29, 2021 - the year of the band's 20th anniversary - the Kentucky band fulfilled their childhood dream of playing at the legendary Royal Albert Hall in London. Sitting on the stage of the iconic Victorian building, singer and guitarist Chris Robertson pauses, looks around and says: "When you're a kid watching your heroes perform and then all of a sudden, you're on stage yourself, it's pretty emotional. But we will really rock it tonight. Believe me."
Playing through their impressive back catalogue, they played songs from their latest studio album 'The Human Condition' - 'In Love with the Pain', 'Again' and 'Ringin' In My Head' - to their biggest hits and fan favourites. 'Blind Man', 'Hell and High Water', 'Blame it on the Boom Boom' and 'White Trash Millionaire' rock the building. But there were also touching moments, such as Chris Robertson's emotional performance on the song 'Things My Father Said'.
Of the performance at the Royal Albert Hall, drummer John-Fred Young said: "To be honest I was terrified. It was hard to go in there. You think of how many great artists have played here. The prestige behind it. We've wanted to play the Royal Albert Hall since the first UK tour in 2007." He continues: "We as people from the middle of the country in Kentucky come here to England and have built an amazing following, people we care about and come to our shows and support us. Knowing that we're going through all the hard work and dedication that we've put into 'Black Stone Cherry', we've achieved something here. When you step onto this place, it's just breath-taking. You step onto that stage and you say: We made it, and that's a feeling I have for will cherish for the rest of my life."
On the Blu-Ray, the live footage is peppered with behind-the-scenes interviews, on-stage footage and archival footage showing the band in their early days, excerpts from their first UK tour and heartfelt moments of reflection. But ultimately, 'Live From The Royal Albert Hall... Y'All' was about bringing Rock 'N' Roll to London, Kentucky-style, to tear the roof off of this great venue.
"The Human Condition" Tour 2022 with THE GEORGIA THUNDERBOLTS as support
September 12, 2022 Cologne, E-Werk
September 14, 2022 Hamburg, Markthalle
September 21, 2022 Berlin, Metropol
September 22, 2022 Vienna (Austria), Arena
September 24, 2022 Munich, TonHalle
September 27, 2022 Zurich (Switzerland), Xtra
September 28, 2022 Stuttgart, LKA Longhorn
BLACK STONE CHERRY Online
www.blackstonecherry.com
www.mascotlabelgroup.com
https://twitter.com/BlkStoneCherry
https://www.facebook.com/blackstonecherry
Source: Press Release