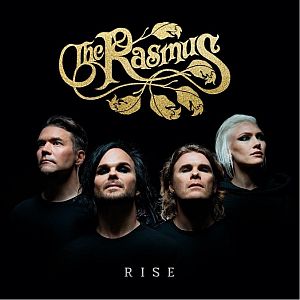 Multi-platinum Rock band THE RASMUS recently released their tenth studio album, 'Rise' via Playground Music. To celebrate, the band is also sharing the video for opener 'Live and Never Die'. The clip consists of live footage that shows the band's energetic stage show and their connection to their fans. "Even though it's the last track we wrote, 'Live and Never Die' was the perfect opener," explains vocalist Lauri Ylönen. "I don't think I've ever written anything with so many positive words and major chords. There's a lot of movement and energy in it."
Listen now to 'Live and Never Die' and watch the music video here:
The past year has been a particularly eventful one for the Finnish Rock band - from re-collaborating with acclaimed songwriter/producer Desmond Child (KISS, BON JOVI, AEROSMITH) to new guitarist Emilia "Emppu" Suhonen and reaching the final of the Eurovision Song Contest for Finland in May.
About the album, Lauri says: "It took us three long years to finish the new album 'Rise'. We have transitioned from our deepest low to the new glorious state that we are in today. We planned to record the album in Eastbourne, England in 2020, but COVID screwed everything up. We live in different countries so we were stuck on different continents trying to record the album on the laptop screen via internet. And that was really bad. But we tried and got some things done. It was a very difficult way to work and time consuming to send the files across the globe to the other side of the world to put songs together. This ultimately led to the band almost falling apart until the guitarist left. So COVID was taking its toll, but maybe it had to happen because a lot of good things happened right after. We wrote 'Jezebel' and it was a huge hit. We met Emppu who became the band's new guitarist and her performance in the group is just amazing. She's so talented and she really fits the band perfectly. She has so much new energy and takes the whole band to a new level. The album was initially called 'Nightdivision' due to the existing COVID conditions that separated us. But after all those positive things happened, we wanted to rename the album to better fit the mood. THE RASMUS have always been a mixture of melancholy and hope and now more than ever we are."
With songs like 'Jezebel' and the title track 'Rise' taking THE RASMUS into a bold new chapter in their career, as well as a European tour in the fall and worldwide dates in the following year, great things remain to come. The band have never felt so prepared for stardom, Lauri believes, and given the quality of their new music, few would dare doubt him. "Honestly, the band is as strong as it's ever been," he summarizes. "Eurovision was an other-dimensional experience, Emppu helped heal us, and 'Jezebel' brought us together as a team. We're a band, who dares to dream again."
'Rise' is available digitally as well as CD, LP and as a special and numbered box set (limited to 1000 copies) with LP, CD, logo pin, signed card and 48-page 12" booklet with photos, lyrics and liner notes. Order here: https://therasmus.ffm.to/rise-album
Tracklist

01. Live And Never Die
02. Rise
03. Fireflies
04. Be Somebody
05. Odyssey
06. Jezebel
07. Endless Horizon
08. Clouds
09. Written In Blood
10. Evil
THE RASMUS TOUR 2022 – Tickets: http://therasmus.com/

Oct 10, 2022 - Hamburg, Markthalle GERMANY
Oct 11, 2022 - Berlin, Metropol GERMANY
Oct 12, 2022 - Warsaw, Proxima POLAND
Oct 13, 2022 - Kraków, Kwadrat POLAND
Oct 14, 2022 - Leipzig, Taubchental GERMANY
Oct 15, 2022 - Prague, Forum Karlin CZECH REPUBLIC
Oct 17, 2022 - Budapest; BNMC HUNGARY
Oct 18, 2022 - Vienna, Ottakringer Brauerei AUSTRIA
Oct 19, 2022 - Munich, Neue Theaterfabrik GERMANY
Oct 21, 2022 - Milan, Fabrique ITALY
Oct 22, 2022 - Bern, Bierhubeli SWITZERLAND
Oct 23, 2022 - Paris, La Maroquinerie FRANCE
Oct 24, 2022 - Esch-Sur-Alzette, Rockhal LUXEMBOURG
Oct 25, 2022 - Wiesbaden, Schlachthof (Halfhouse) GERMANY
Oct 27, 2022 - Cologne, LMH GERMANY
Oct 28, 2022 - Haarlem, Patronaat NETHERLANDS
Oct 30, 2022 - Nottingham, Rock City UNITED KINGDOM
Oct 31, 2022 - Manchester, O2 Ritz UNITED KINGDOM
Nov 1, 2022 - Glasgow, Garage UNITED KINGDOM
Nov 2, 2022 - Bristol, O2 Academy UNITED KINGDOM
Nov 3, 2022 - London, O2 Forum Kentish Town UNITED KINGDOM
THE RASMUS are

Lauri Ylönen – vocals
Eero Heinonen – bass
Emppu Suhonen – guitars
Aki Hakala – drums
THE RASMUS online

https://www.facebook.com/therasmusofficial
https://www.instagram.com/therasmusofficial
https://www.youtube.com/user/RasmusOfficial
http://therasmus.com/
Source: Press Release