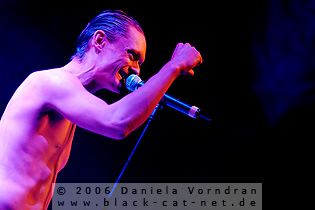 CYBERIA / X-CLUB & SUMMER DARKNESS presents Cybergothic Event at the Ekko / Utrecht / Netherlands
with the concerts of:
DAS ICH + HOMO FUTURA + METALLSPÜRHUNDE
Mainhall: Cybergothic Hits, Tips & Classixs
Cafe: 80's Gothic/Wave & Dark Industrial
DJs: Resident dj -X-X-X- & Guest dj Distortedchaos @ Mainhall - Resident dj's Olaf & Guest dj @ Cafefloor
CYBERIA / X-CLUB and SUMMER DARKNESS proudly present the exclusive Dutch concert of:
DAS ICH
[ Germany - Gothic/Electro - Xclusive Dutch concert & presentation of their new album "Cabaret" - including their new clubhit "Opferzeit" ]
On Stage: 22.00 - 23.00 hour
http://www.dasich.de/
This will the only Dutch concert of DAS ICH in Holland in 2006, since after this show they will go on world tour and a short - well deserved - break, so take your chance to see them live once more. Their upcoming new album "Cabaret", which will be out on 24.03.06, will be presented live on stage. This brand new album creates a bridge between their "new" sound and the "older" atmopshere/style of their first albums, so it is going to be show for all DAS ICH fans in holland.
HOMO FUTURA

[ Germany - 80ties Minimal Electropop - New Side project from WELLE:ERDBALL presenting their debut album ]
On Stage: 20.45 - 21.30 hour
http://www.homo-futura.de/
For the first time live in holland this brilliant side project of WELLE:ERDBALL with an new live show, which will surely stimulate all your senses ! You don't want to miss this. Check out their site for more info on their music.
METALLSPÜRHUNDE
[ Germany - Electro / Industrial - in the style of bands like Oomph! and Rammstein ]
On Stage: 19.45 - 20.20 hour
http://www.mshunde.ch/
The openingband of this evening is a new Electro / Industrial band from Germany. Under the protection of DAS ICH they are now conquering germany fast. Will they do the same in Holland ? They play a mixture of styles which reminds of bands like Oomph! and Rammstein, but then leaning more towards the metal side... Check out their brand new site and music online.

{jos_sb_discuss:13}