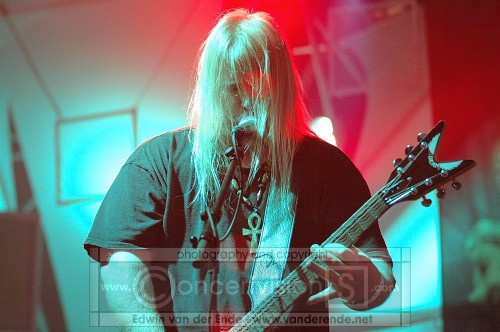 No Mercy
013, Tilburg, the Netherlands
March 28th 2005
Doors open: 15:00
Start: 16:00
Entrance: 30 euros
There are two important metal indoor festivals in the Netherlands. One of them is NO MERCY. Year after year metal heads come to the 013 in Tilburg to see some bands. For most of them it's more a tradition. The venue in 013 very good for this purpose, because if you don't want to see a band you can meet people in the hall and they have two stages which makes it nice to walk around.
The line-up this year is one which is not very impressive, because most of the bands where on festivals like Wacken or other summer festivals in the last two years. There is a lot of discussion about this line-up. Of course it is very personal when you come especially for the bands. Like I said before: for most of the metal fans it's a chance to meet each other again and have a relaxed day... hanging around and drink a lot of beer.

Headliner this year is SIX FEET UNDER. They are on tour at the moment to promote their new record. Chris Barnes (frontman and singer) always guarantees good fast death metal from Florida. The last album just made their eight record called "13" (good name when you play in a venue called 013) and together with guitarist Steve Swanson, bass legend Terry Butler (Death, Massacre) and drummer Greg Gall, the foursome continues to follow a strange career path that merges simplistic death metal with their fetish for the tried 'n' true classic sound of the art form. And consistency is the key to Barnes' rather stomach-turning ideals. They want to make heavy metal where you 'always get a smile of ' to quote singer Barnes. The band has a long history and is very well known in the scene. This is a good opportunity to see them live.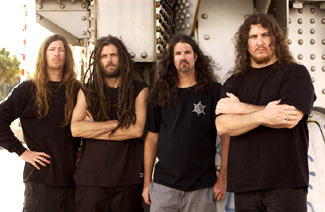 Second on the list is co headliner NILE. They had a chaotic time last year and had some problems with band members. They played at the Dutch summer festival "Lowlands" last year and now they are back. With the record "In their Darkened Shrines" the band became very well known in the metal scene. Karl Sanders (guitar and vocals) formed the band in 1993 and after that all went very fast with the band. One theme that always comes back is the Egyptian history and which mixed very subtle with rough deathmetal. That is what this band gives a special sound. They have a new 19 old bass player Joe Payne. There were plans that Steve Tucker (ex-Morbid Angel) did the tour, but last minute NILE found a new bass player.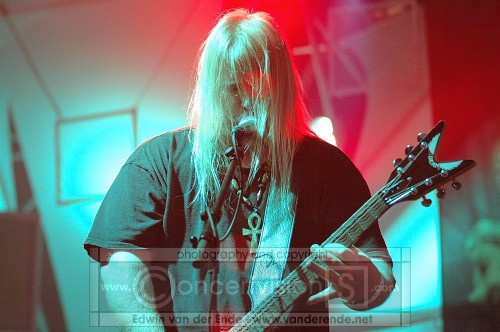 DARK FUNERAL is a totally different band with a totally different sound. They played at the other indoor metal festival X-Mass. So many people have seen the band last year. Again they are back after a long time of silence. They have a new live record out, so we can expect a lot of well known songs in the new show. At the moment they are busy with some new songs, but they first do this tour. The blackmetal formation always has good shows and is at the top of the scene.

ANVIL is a surprising name on the list; this band is arisen again. They were very well know in the '80 and last year the Canadian guys came with a new record called "Back to the Basics" so we can expected some good old heavy metal.