M´era Luna Festival 2006
Flugplatz Drispenstedt, Hildesheim, Germany
Saturday, 12th August to Sunday, 13th August 2006
Camping: 11th August 16:00 until 14th August 10:00 (with the combi-ticket only)
Entrance: 69 euros including waste deposit and fees
http://www.meraluna.de/
The festival based at Hildesheim has grown substantially since its recent beginnings in 2000 and is now a fixture on the European festival landscape. The biggest European wave and gothic festival attracts every year about 25.000 fans to celebrate a melancholic-dark weekend. A fashionable outfit with a touch of middle-age in combination with lacquer and leather is as popular as black colour or if necessary white. The most fans show themselves in the same individual and artificial way like the artists on stage. A lot of the famous bands and artists of the wave and gothic scene are mostly not for the first time at the M'ERA LUNA FESTIVAL. A new album release is not absolutely necessary for an appearance at this festival. The audience often wishes their good known idols to whom they feel close to but they also wait in suspense for unknown newcomers.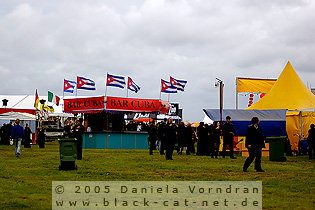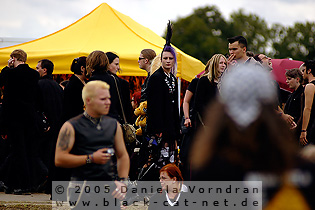 Info



GENERAL INFORMATION

Tickets from abroad

International ticket order is available via
http://www.getgo.de/
Business hours camping

The camping ground will be open from 4pm on Friday through 10am on Monday. Camping outside of designated campsites is illegal.
Parking / mobile homes

Parking and camping is separated. Caravans and mobile homes will be parked on special parking lots.
Facilities for handicapped persons

Sanitary facilities for handicapped persons are available. at the festival ground will be a special area suitable for wheel chairs on site please take a look to the signs
Mutual camping

Meet outside of Hildesheim and travel together or in convoy
Fire, cooking

Open fires are strictly forbidden! Please check your camping stove before your journey to the festival.
Dogs and other pets

Are not allowed on the festival and camping grounds
Environment protection, refuse

Please keep the festival and camping grounds clean. Within the price of the ticket there will be a deposit of 5€ on garbage bags which will be refunded by return of the garbage bag and the deposit-chip when leaving the festival
Glass bottles, food and drinks at the festival area

Glass bottles, cans, plastic bottles a water-bags are not allowed on the festival grounds. You can take with you a little lunch package and one tetra pack (up to 1.5l)
Glass bottles, food and drinks at the camping area

Glass bottles are not allowed at the camping area.
Power generators

Are not allowed
Drinking water

At the sanitary facilities you can fill up your water bottles
Phone, info- and meeting point

At the main entrance
Medical orderly

Please take a look at the area map
Bank facilities / cash dispensers

Next cash dispenser: fuel station at "Lerchenkamp" (corner "Steuerwalder Straße")
Next two banks with cash dispenser:
Stadtsparkasse Hildesheim, Bernwardstr. 10
Stadtsparkasse Hildesheim, Martin-Luther-Str. 43
Security

Please follow the instructions of the security-stuff
Sanitary facilities

The sanitary facilities at the camping areas have showers and water-closets but there are also dixi-toilets. To find the position please take a look at the area maps.
Ticket forgers

Be aware of ticket forgers. Don't buy tickets at street-vendors. These tickets may be forged. No admittance to the festival with forged tickets!
Merchandise products

Selling of merchandise products is strictly forbidden
Liability

Every visitor is liable for damages!
Lost & found office

At the festival please ask the medical stuff.
The lost and found office in Hildesheim can be also contacted under +49 (0)5121-301-411
Photo, video, sound

Sound and video recordings are strictly forbidden.
Children

Please do not take children under an age of eight years to the festival, rather leave them with grandparents or friends. Children at the age between 8 and 16 need to buy a ticket and will get access only accompanied by legal guardian
Lockers

To lock your valuables we provide lockers at the main entrance
ROUTE


Arriving by car

Take freeway A7, exit Drispenstedt, follow signs "Zentrum", turn right into Lerchenkamp, direction port/airport (Flugplatz). Signs with "M'era Luna" will show you the way to the festival.
Arriving by train

Get off the train at Hildesheim Hauptbahnhof and take the bus (no. 17) towards…or take a 30 minutes walk. Signs with "M'era Luna" will show you the way to the festival. More information at www.hildesheim.de

CONTACT


FKP Scorpio Konzertproduktionen GmbH
Rellinger Str. 64a 20257
Hamburg
Tel.: +49 (0)40 - 853 88 888
Fax: +49 (0)40 - 853 88 999
E-Mail:
This email address is being protected from spambots. You need JavaScript enabled to view it.
Confirmed Artists


APOPTYGMA BERZERK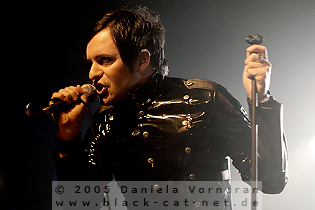 ASP
BAUHAUS
BLUTENGEL
CLAN OF XYMOX
DE/VISION
DEATHSTARS
DIE KRUPPS
DOPE STARS INC.
ELIS
EPICA
FRONTLINE ASSEMBLY
FUNKER VOGT
GIRLS UNDER GLASS
GOTHMINISTER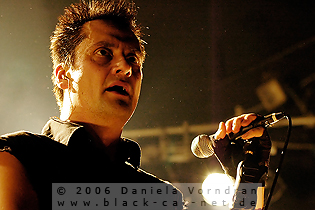 IN EXTREMO
IN STRICT CONFIDENCE
LETZTE INSTANZ
LIV KRISTINE
LLUTHER
MESH
MIDNATTSOL
MINISTRY
MONA MUR feat. ST.CLAIRE
NITZER EBB
NORTHERN LITE
REGICIDE
ROTERSAND
SAMSAS TRAUM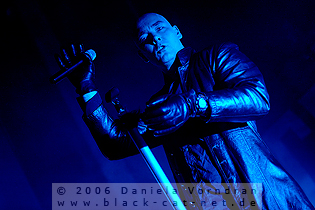 SOLITARY EXPERIMENTS
SOMAN
SONO
SPETSNAZ
TERMINAL CHOICE
THE BIRTHDAY MASSACRE
THE GATHERING
TRISTANIA
UNHEILIG
WITHIN TEMPTATION
XPQ21
More information about the bands at
http://www.meraluna.de/


Timetable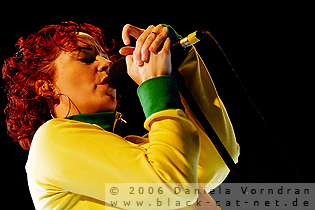 Saturday


Hangar:

11:20 - 11:50 Lluter
12:10 - 12:50 Regicide
13:15 - 13:55 Midnattsol
14:20 - 15:00 Dope Stars Inc.
15:25 - 16:05 Liv Kristine
16:30 - 17:10 Unheilig
17:40 - 18:35 Samsas Traum
19:05 - 20:00 Tristania
20:30 - 21:30 Deathstars
22:15 - 23:15 The Gatering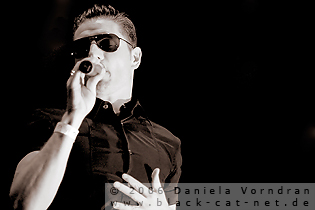 Main Stage:
11:00 - 11:20 Sono
11:40 - 12:10 Northern Lite
12:35 - 13:15 Gothminister
13:40 - 14:20 Girls under Glass
14:45 - 15:25 Mesh
15:50 - 16:30 Funker Vogt
16:55 - 17:40 Die Krupps
18:05 - 19:05 Blutengel
19:30 - 20:30 Frontline Assembly
21:00 - 22:15 Nitzer Ebb
22:45 - 00:00 Bauhaus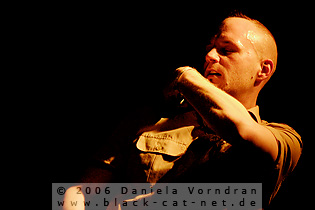 Sunday


Hangar:

11:20 - 11:40 Solitary Experiments
12:05 - 12:35 XPQ 21
12:55 - 13:25 Soman
13:50 - 14:30 Spetsnaz
15:00 - 15:40 Rotersand
16:10 - 16:55 In Strict Confidence
17:25 - 18:20 Terminal Choice
18:50 - 19:50 De Vision
20:20 - 21:20 ASP
Main Stage:

11:00 - 11:20 Mona Mur
11:35 - 12:05 Elis
12:20 - 12:55 Clan of Xymox
13:10 - 13:50 Epica
14:10 - 15:00 Letzte Instanz
15:25 - 16:10 The Birthday Massacre
16:35 - 17:25 Apoptygma Berzerk
17:50 - 18:50 Ministry
19:20 - 20:20 In Extremo
20:50 - 22:00 Within Temptation
{jos_sb_discuss:13}