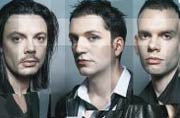 König-Pilsner-Arena, Oberhausen, Germany
30th November 2006

Placebo

During their celebrated shows at "Rock am Ring" and "Rock im Park" Placebo emerged as the secret headliner. The show there was attended by as many visitors as with the big names "Depeche Mode", "Metallica" and "Guns N' Roses". But the euphoric reactions were not that surprising – the trio around front man Brian Molko has developed to one of the biggest and best Alternative-acts on our planet long ago. Rock-press is regularly celebrating the band with extended title stories and Placebo-CDs always climb up the charts into the Top Ten in much more than 20 countries.


So, Brian Molko and his two companions Stefan Olsdal (bass) and Steve Hewitt (drums) can count their fifth studio album "Meds" as full success. In Germany, the CD earned gold status within a short time; there's not much left until platinum status – and this happens in times when Great Britain seems to have a new Brit-Pop sensation every month. Placebo are no sensation anymore – they are a class on its own established in the Pop world over the years.
End of the year the icons of Britpop are coming also to Germany and are guests at the arena in Oberhausen on the 30th November. Doors will open at 18.30 and the show starts at 20.00. Tickets can be purchased for 43.90 EUR on the website of the arena.
http://www.placeboworld.co.uk
http://www.koenig-pilsener-arena.de/
Tourdates:
OCTOBER
02.10.06 Paris, The Bercy, France
03.10.06 Paris, The Bercy, France
06.10.06 Zurich, Hallenstadion, Switzerland
07.10.06 Amneville, Galaxie, France
09.10.06 Milan, Palamazda, Italy
11.10.06 Stuttgart, Schleyerhalle, Germany
12.10.06 Erfurt, Messehalle, Germany
13.10.06 Munich, Olympiahalle, Germany
NOVEMBER
19.11.06 Geneva, Arena, Switzerland
21.11.06 Lyon, Halle Tony Garnier, France
22.11.06 Toulouse, Zenith, France
23.11.06 Clermont Ferrand, France
30.11.06 Oberhausen, Arena, Germany
DECEMBER
13.12.06 Vienna, Stadthalle, Austria
15.12.06 Berlin, Treptow Arena, Germany
16.12.06 Hamburg, Sporthalle, Germany
17.12.06 Leipzig, Messehalle, Germany
19.12.06 Hannover, AWD Hall, Germany
20.12.06 Mannheim, SAP Arena, Germany