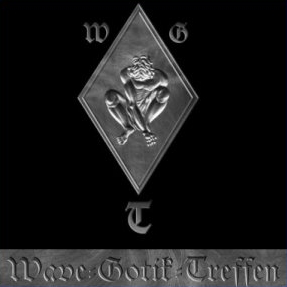 Leipzig, Germany
13th to 16th May 2016
25th Wave Gotik Treffen with Aesthetic Perfection, Biomekkanik, Cinema Strange, Darkhaus , Das Ich, Diary Of Dreams, Die Krupps, Girls Under Glass, Haujobb, Legend, Mesh, Sigue Sigue Sputnik, Velvet Acid Christ and many more

Twenty-four years ago, two Gothic people from Leipzig had an unusual idea: They didn't want to create yet another dark music festival but rather a supra-regional gathering of like-minded fellows for relaxed meeting, chatting and celebrating. When the 1st Wave-Gotik-Treffen took place in 1992 at the edge of Leipzig with about 2,000 visitors and just a handful of bands, it is unlikely that anyone imagined that within a few years the WGT would become the largest meeting of Gothic people in the world, taking possession of a whole city every year at Whitsun.
Now, the WGT exists a quarter-century… from May 13th to 16th again more than 20,000 Gothics from all over the world are expected to come together again in Leipzig to celebrate the jubilee of Wave-Gotik-Treffen as THE international gathering of the dark family. To start this 25th WGT properly, there will be a grand opening party already on Thursday, May 12th, starting at 8.00 p.m. It will take place at AbenteuerReich Belantis - an amusement park in the south of Leipzig. DJs will be inviting to dance at various locations on the area, among them veterans of the early days of Leipzig's dark scene like the founders of WGT, Michael Brunner and Sandro Standhaft as DJ-team Moonchild. All fairground rides of the large amusement park can be used until midnight.
All over the city there will be about 200 bands performing, projects and single artists covering the whole wide range of Gothic music: from Electro-Pop to Goth-Metal, from EBM to Neofolk, from medieval music to Post Punk. Apart from famous bands of the scene, you are invited for new discoveries with several less-known real underground bands or artists from the edge of the Gothic music universe. The concerts and events take place at more than 50 venues spread throughout Leipzig, for instance in the vaults of the Moritzbastei, in the splendid neo-antique cupola hall of the Volkspalast, and in the historical public bath Stadtbad, as well as in large concert halls. The WGT program will also include beautiful classical music again, such as Wagner operas, Mozart's Requiem as ballet, chamber music, organ concerts and Brams Stoker's Dracula as musical.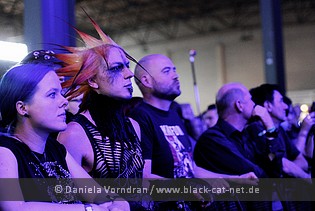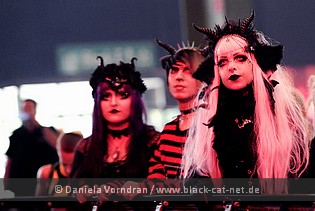 From its beginning the Wave-Gotik-Treffen has been much more than a music festival: its guests may step back to the romantic atmosphere of ancient times at the medieval market place at the Pagan Village (Heidnisches Dorf). They will present authors reading and unusual theatre, cinematic performances will take place. People in historic clothing will gather for a Victorian Picnic in a park. For four days a large hall at the agra-Messepark will be transformed into the biggest Gothic-wares marketplace in the world. In numerous clubs DJs from all over the world will invite you to dance until dawn. There will also be a large fetish party where entrance is only possible by following a strict voluptuous dress code. A stroll through the winding passages of city centre of Leipzig with its historical buildings of the Renaissance, Baroque and Jugendstil (Art Nouveau) eras is especially worthwhile for art and culture lovers: the entrance to several of Leipzig's museums is free for WGT-guests.
Cheap and entertaining accommodation is available at the huge Treffen camping ground. To enter, you need a special ticket (called Obsorgekarte) which includes also the extensive WGT-program-book. Public transport in the city is free for all WGT-guests from Friday morning until noontime Tuesday. The inhabitants of Leipzig have become familiar with the Treffen over the last two decades – there are no longer any prejudices and the Gothic guests are very welcome here. The most fascinating aspect of the Wave-Gotik-Treffen is surely its unique magic atmosphere that covers the whole city. Gothics from all over the world celebrate their gathering in a peacefully relaxed manner, turning Leipzig into a diverse wave of black. Once a year about twenty thousand Gothics come home: to the Wave-Gotik-Treffen.
The Stadtgeschichtliches Museum of Leipzig (Museum for town history) presents an exhibition about 25 years of WGT, this eerily beautiful part of Leipzig's history, as well as about the scene with its dubious reputation to the public. Extravagant fashion, multi-faceted music genres, spectacular accessories and most of all fascinating people will be the main focus of the dazzlingly black show. Visitors and organisers will tell about their experiences and adventures around the WGT and about their self-conception of being Goth. Guided tours in English will be offered on WGT Saturday and Sunday.
Bands

Currently, following artists are confirmed (as of 28th April 2016)
Abney Park (USA) exclusive German show 2016 - Aesthetic Perfection (USA) - Agonoize (D) - Alexander Nym (D) - Amber Asylum (USA) - Amnistia (D) - Ancient Methods (D) - And Also The Trees (GB) - Andi Harriman (USA) - Angelic Foe (S) - Anita Steiner (D) - Anna Von Hausswolff (S) - Argyle Goolsby And The Roving Midnight (USA) - Artwork (D) 30th anniversary show - Aurelio Voltaire (USA) - Autumnal (E) - Axel Thielmann (D) - Árnica (E) - Backworld (USA) - Balzac (J) - Banane Metalik (F) - Belen Ruales Aguilar AGUILAR (YV) - Benjamin Schmidt (D) - Bestial Mouths (USA) - Bifröst (A) - Biomekkanik (S) - Björn Brünnich (D) - Black Moon Secret (D) - Blitzmaschine (D) - Brigandu (D) - Capella Fidicinia (D) - Carach Angren (NL) - Carolina Sirui-Cao (D) - Chainreactor (D) - Chor und Jugendchor Der Oper Leipzig (D) - Chor, Ballett Und Orchester Der Musikalischen Komödie Leipzig (D) - Christ Vs. Warhol (USA) - Christian Von Aster (D) - Christine Plays Viola (I) - Cinema Strange (USA) worldwide exclusive show in 2016 - Claudia Gräf (D) - Clemens-Peter Wachenschwanz (D) - Coppelius (D) - Crematory (D) 25th anniversary show - Cult Club (D) - Culture Kultür (E) - Cultus Ferox (D) - Cut Hands (GB) - Dark Fortress (D) - Darkhaus (D/USA) - Darkher (GB) - Das Ich (D) - David Timm (D) - Décembre Noir (DE) - Denny Wilke (D) - Dernière Volonté (F) - Destin Fragile (S) - Deutsch Nepal (S) - Diary Of Dreams (D) - Die Krupps (D) - Die Wilde Jagd (D) - Diodati (D) - Dirk Ivens (B) presents the best of The Klinik, Dive, Blok 57 and Absolute Body Control - Dirk Lehmann (D) - Donner & Doria (D) - Dornenreich (A) with two different sets - Drangsal (D) - Duo Lied Kunst (D) - Elbish Rock (D) - Elisabeth Neuser (D) - Emily Hoppe (D) - Endless Asylum (E) - Ensemble Amarilli (D) - Enslaved (N) - Eric Fish And Friends (D) - Esplendor Geometrico (E) - Estampie (D) 30th anniversary show - Eve Marty (F) - Faun (D) - Finisterre Tango (RA) - Frank Herrmann (D) - Fuchsteufelswild (D) - Gernotshagen (D) - Gewandhausorchester (D) - Girls Under Glass (D) 80s original lineup - Golden Apes (D) - Gothminister (N) - Grausame Töchter (D) - Hante. (F) - Har Belex (E) - Harpyie (D) - Haujobb (D) - Hearts Of Black Science (S) - Heidevolk (NL) - Hendrik Schnöke (D) - Henric De La Cour (S) - Heydenrausch (AT) - Hubertus Schmidt (D) - I Like Trains (GB) - In The Nursery (GB) 35th anniversary show - Irdorath (BY) - Irfan (BG) - Isabel Gabbe (D) - James Rays Gangwar (GB) - Jörg Richter (D) - Jessica93 (F) - Joachim Witt (D) - Joanna Göttsche (D) - Johanna Maennike (YV) - Juliane Breinl (D) - Kari Rueslåtten (N) - Karl-Heinz Georgi (D) - Kathrin Christians (D) - Kauan (RUS) - Kirsten Morrison (GB) - Kommando (D) - Korpiklaani (FIN) - Krayenzeit (D) - Kuroshio (FIN) - Kyoll (D) - Lacrimosa (CH) - Lament (D) - Last Leaf Down (CH) - Leather Strip (DK) - Leaves' Eyes (D/N) Viking show - Legend (IS) - Leipziger Ballett (D) - Lene Lovich Band (USA) - Lex Wohnhaas (D) - Lord Of The Lost (D) - Luci Van Org (D) - Lukas Dreyer (D) - Lydia Benecke (D) - Lydia Gorstein (D) - Lydia Kavina (D) - Machinista (S) - Mark Benecke (D) - Marko Kruppe (D) - Marko Meyer (D) - Markus Heitz (D) - Maschinenkrieger KR52 vs. DISRAPTOR (D) - Matthias Müller (D) - Männerchor Leipzig-Nord (D) - MDR Kinderchor (D) - Meinhard (D) - Mendelssohnorchester Leipzig (D) - Mesh (GB) - Michael Brunner (D) - Midgards Boten (D) - Moritz Eggert (D) - My Dying Bride (GB) - Nachtwindheim (D) - Näo (F) - Nekromantix (DK) - Neuroticfish (D) - Nordvargr (S) - Nouvelle Vague (F) - Nullvektor (D) - Of The Wand And The Moon (DK) - One I Cinema (D) - Orange Sector (D) - Other Day (D) - Patenbrigade Wolff (D) - Peter Murphy (GB) 'Mr. Moonlight show' presenting the best of Bauhaus - Peter Yates (GB) - Pink Turns Blue (D) - Plastic Noise Experience (D) - Portion Control (GB) - Position Parallèle (F) - Pride And Fall (N) exclusive German show 2016 - Project Pitchfork (D) 25th anniversary show - Psilocybe Larvae (RUS) - Reaper (D) - Roger Rotor (CH) - RosaRubea (I) - Rose McDowall (GB) - Ruined Conflict (USA) - Saeldes Sanc & Ernst Horn (D) - Sandro Standhaft (D) - Sangre De Muerdago (E) - Sascha Blach (D) - Saskia Etzold (D) - Schöngeist (D) - Schwarzer Engel (D) - Sebastian Taubert (D) - Selofan (GR) - Siechtum (D) exclusive reunion show - Signal Aout 42 (B) - Sigue Sigue Sputnik (GB) - Skálmöld (IS) - Solar Fake (D) - Somatic Responses (GB) - Sonar (B) - Spetsnaz (S) - Stephan Meiner (D) - Sunset Wings (RUS) - Supersimmetria (D) - Sven Geipel (D) - Swallow The Sun (FIN) - Tanz Ohne Musik (RO) - Te/DIS (D) world premiere - Test Dept: Redux (GB) - Thalia Lauer (D) - The Aerdt (D) - The Angina Pectoris (D) first show in 15 years - The Blue Angel Lounge (D) - The Deadfly Ensemble (USA) - The Fright (D) - The House Of Usher (D) - The Legendary Pink Dots (NL) - The Mary Onettes (S) - The Ocean (D) - The Protagonist (S) - The Sexorcist (D) - The Underground Youth (GB) - The Visit (CDN) - Theaterpack (D) - Thomas Manegold (D) - Thorofon (D) 25th anniversary show - Tilo Augsten (D) - Tragic Black (USA) - Treha Sektori (F) - Triarii (D) - Trollfest (N) - Ulf Wallin (D) - Ultranoire (H) - Unzucht (D) - Valhall (S) - Veit Etzold (D) - Velvet Acid Christ (USA) - Versengold (D) - Vielle (D) - Vril Jäger (DK) European premiere - Waldkauz (D) - Waldträne (D) - We Are Temporary (USA) - Winter Severity Index (I) - Winterkälte (D) 25th anniversary show - Wolfram Kuhnt (D) - Xeno & Oaklander (USA) - XTR Human (D)
For more information about the confirmed artists, there is a list of their official webpages here:
http://www.wave-gotik-treffen.de/forumwgt3/viewtopic.php?f=3&t=23278
On the WGT website, you can enrol for a newsletter which quickly informs you about the latest program updates.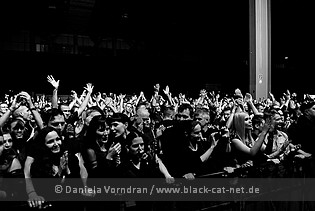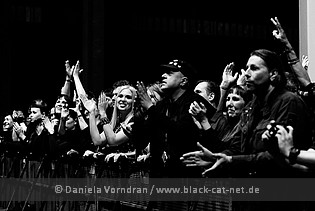 Tickets

Event Ticket

4-days tickets for all events during the 25th Wave Gotik Treffen 2015 are available for 120 EUR in presale (incl. presale charges). The Treffen-Event-Ticket includes free using of public transport (tram, city-busses, regional trains, suburban trains within the zone 110 of MDV) from May 13th, 8.00 a.m. to May 17th, 12.00 p.m. / noontime (except for special routes).
Parking Vignette

In order to use the parking places on the Treffen Area, a parking vignette for 15 EUR (incl. presale charges) for the whole time of the festival is necessary. Important! Without a vignette you're not allowed to park at the area.
Camping

Possible with Obsorge ticket, limited up to 9,999 tickets for 25 Euro (includes advance sale charges), contains the following service-package:
- Camping at the Treffen-Campground (agra-fairground)
- "Pfingstbote" ("Whitsun-herald") - the WGT program book
Important! Without an Obsorge ticket the entering and the use of the camping grounds is not possible. The Obsorge ticket is only valid in combination with an event ticket and has to be bought for each person separately.
You can order your tickets here:

http://www.wave-gotik-treffen.de/karten.php
(Germany)
http://www.wave-gotik-treffen.de/english/karten.php
(Foreign Countries)
Opening Party

There will be a big opening party at the day before the festival really starts, on Thursday, 12th May 2016: Grand opening party for the 25th anniversary of WGT at "AbenteuerReich BELANTIS" - the amusement park in the south of Leipzig
from 8:00 p.m.

DJs present sets in various styles in different locations throughout the park
27-hectares amusement park with eight different "thematic worlds" from the "Valley of the Pharaohs" to the "Isle of Knights".
All fairground rides open until midnight, e.g. the white-water ride "Curse of the Pharaoh" through a pyramid, the rollercoaster "Huracan" with free fall from a height of 32 metres and many more
from midnight until 5:00 a.m.

Central party at the marquee "Belanteum" with various DJs from the early days of Leipzig's dark scene, including "Moonchild" (Michael Brunner & Sandro Standhaft), "Mystic Mountains" (Marko Meyer & Frank Herrmann), :dark sounds: and Knüpfi
Opening fireworks and further attractions in preparation
Arrival:

By car via the Autobahn A38, exit "Leipzig – Neue Harth", 2000 parking spaces available
By shuttle-bus transfer from the "Agra-Treffenpark" and Leipzig main station
Entrance with WGT-wristband or valid WGT ticket only.
Further information will follow soon and are always available at
http://www.wave-gotik-treffen.de/english/prog/opening.php
Additional festival information

Location

Leipzig, eastern Germany (at about 40 venues, spread all over the city); camping site and main venue at the edge of town at the "Agra- Messepark" Markkleeberg; for information on the city you may check
http://en.wikipedia.org/wiki/Leipzig
or the official city website
http://www.leipzig.de/int/en
.
Music styles

All kinds of dark music: Gothic; EBM; Industrial; Ambient; Neofolk; Synth-pop, Goth-Metal etc.
Expected number of visitors

About 20,000
Info line

0049-341-2120862 / Email:
This email address is being protected from spambots. You need JavaScript enabled to view it.
WGT-app

The useful and free app WGT-Guide can be downloaded in the app stores of Google Play, iTunes or Amazon.
"low emission zone" in Leipzig

Since the 1st of March 2011 about 60 per cent of the urban area of Leipzig has been declared a "low emission zone" to protect the environment from air pollution. Therefore within this zone only vehicles which have an official green sticker placed on the front windscreen are allowed. To obtain such a sticker, the vehicle must meet certain standards (i.e. age, type of fuel, diesel particulate filter etc.). This regulation is also valid for foreigners who travel to Leipzig by car. If you cannot show a valid sticker during a traffic check, you will have to pay a fine of 40 Euros. The stickers are available for about 5,- Euros at most car repair shops in Germany or via internet, e.g. the website of TÜV-Nord (6 Euros).
ATTENTION: The agra-area with parking lot and camping site can be reached via A38 / B2 without having to enter the "low emission zone"! (Please see the map of the zone below) That means it is possible for visitors to park their vehicle at the agra-parking lot (you will need a WGT parking ticket in this case, which can also be obtained on location) and reach all other locations by public transport. Please use the following links to find more information:
http://www.lowemissionzones.eu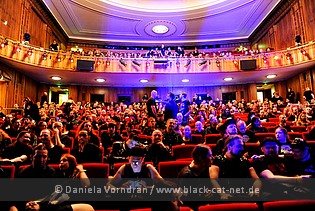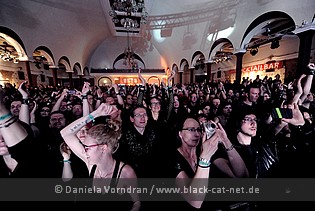 WGT special tips

Apart from famous bands of the scene, the coming WGT program will again include several hidden treasures whose names are maybe not known to everybody, but which will surely perform outstanding concerts. So before visiting the WGT, it's worthwhile to take a closer look into the program and to listen to some sample tracks of the artists you don't know. Here are some hints on a few less known, yet interesting bands and artists which will play at the WGT 2016:
Amnistia

Electro, EBM | Leipzig:
https://www.youtube.com/watch?v=JL_lnAGM0GE
Although they're about to release their fifth album, "Dawn", a bit more publicity couldn't hurt the sympathetic Leipzig boys from Amnistia. Their sound draws from admiration of the EBM greats from Front 242 to Skinny Puppy, but is in no way out-dated.
Autumnal

Doom Metal | Spain:
https://www.youtube.com/watch?v=OiUWPlK-aV4
Friends of My Dying Bride may already be familiar with them; after all, they've been around since 1998. A bit reminiscent of A Perfect Circle.
Bestial Mouths

Minimal Synth, Industrial | USA:
https://www.youtube.com/watch?v=b6O0fw29ApY
A violent electronic thunderstorm rhythm rumbles in from L.A. with an idiosyncratic voice reminiscent of both Diamanda Galás and Lydia Lunch. Perhaps not the easiest to grasp on first listen, but in the end very gripping and gloomy as the night without the insincere ballast of clichés.
Cult Club

Minimal Synth | Germany:
https://www.youtube.com/watch?time_continue=1&v=neVjsTxm0Dk
Behind this relatively new project are Laslo Antal of Sixth June and Sally Dige, who already knows veritable success as a solo artist. Together they produce supercooled Synth Wave for the late hours.
Darkher

Alternative, Doom | Leipzig:
https://www.youtube.com/watch?v=ugVRpDzl6Bs
Those who get goose-bumps from Chelsea Wolfe's raven-black oeuvre should lend an ear to this new discovery from the Prophecy label. Sinister, sluggish Doom with exceptional female vocals makes you lust for the forthcoming debut album. In any case absolutely impressive live.
Hante.

Minimal Synth | France:
https://www.youtube.com/watch?v=D6C5QV_XpD0
Last year, the WGT presented the bustling Parisian Hélène de Thoury's other current project, Minuit Machine, with great success. This year her no less interesting solo project "Hante." takes its turn after recently releasing its second LP. Hélène's supply of ideas seems inexhaustible and she produces one hit after another. Hats off to so much talent. The sound of "Hante." travels through familiar climes, another spectacular concert with super-cooled danceable Synth-Wave and heart-breaking melodies awaits us.
Har Belex

Neofolk | Spain:
https://www.youtube.com/watch?v=Pdr4IGcgvfw
There comes a point at which the shoemaker can't bear to look upon his own last, and begins a new life as a shepherd. The electronic musicians Manix S. (Pail) and Salva Maine (Culture Kultür) apparently tired of the synthesizers after many years and exchanged them unceremoniously for acoustic guitars. Thus, they are probably the first Neofolk band with such a musical background. Of course they're not reinventing the folkloric wheel, but they provide quite solid fare for fans of the genre.
James Rays Gangwar

Gothic Rock | Great Britain:
https://www.youtube.com/watch?v=VDBdrfLQRvE
He was the voice of the Sisters of Mercy side-project "The Sisterhood" that forms an indisputable cornerstone of any solid Goth-Rock record collection with its only album, "Gift". In 2016, 10 years since his last live performances and with far too little attention given to his own projects, he comes out of nowhere back to the WGT for an exclusive concert.
Kari Rueslåtten

Ethereal, Folk, Pop | Norway:
https://www.youtube.com/watch?v=wA8l8QM0gow
In the early 90's, with her band The 3rd And The Mortal, she established the foundation for almost all well-known "female fronted" Metal bands from Nightwish to The Gathering. In 1995, however, she dropped out to pursue a solo career more focused on Norwegian folklore. An exception woman with an exceptional voice.
Kauan

Post Rock, Doom Metal| Russia:
https://www.youtube.com/watch?v=MJwsXmM8tsc
Great mix of Post -Rock, Doom Metal and Folk. Those who are even remotely excited about My Dying Bride or Dead Can Dance should give this a listen.
Lament

Indie, Wave | Germany:
https://www.youtube.com/watch?v=KZl_gE2Z5Ww
Sebastian Söllner, singer of Lament, along with his band have a now 20-year eventful journey behind them: from small newcomer band from Bad Lausick via various WGT performances in the nineties through to a win at MTV Rookie Contest 2008 from which 700 competitors came away empty-handed. After various internal and personal crises the end of the band seemed likely - however in 2014 they had their comeback and this year they are to finally returning to the WGT-stage. Not only friends of The Cure should take this opportunity - these guys are highly motivated
Last Leaf Down

Shoegaze, Alternative | Switzerland:
https://www.youtube.com/watch?v=4osCnNbq8Hc
100% chance of goose-bumps for all fans of bands such as Alcest or Slowdive.
Legend

Elektro, Alternative | Iceland:
https://www.youtube.com/watch?v=490TRhPmYkQ
Singer Krummi Björgvinsson, successful in his home country in various Hardcore and country rock bands, founded Legend as a side project. Their mix of alternative rock and synth pop shows once again that Icelandic bands really don't give a damn about genre conventions and labels, they just do their thing - and as often happens, in this case it's damn good.
Näo

Post Rock, IDM | France:
https://www.youtube.com/watch?v=AKexP006KZM
They were here before in 2012 and won over many fans with their impressive live mix of punchy Post Rock paired with all kinds of melodic IDM tinkering. Thereafter, this French band unfortunately fell quiet, but this year they blew us away with their new material, which seems a bit more guitar driven.
Peter Yates

Indie Rock | Great Britain:
https://www.youtube.com/watch?v=RCy8EOMJDaI
According the Gothic-Rock history book, this young man was the guitarist and a quasi-founding member (1983-1991) and therefore instrumental to the first three albums of a band called "Fields Of The Nephilim", which means that he played the riffs on "Wail of Sumer", "Love Under Will" and of the other incomparable pearls. After his first appearance at the WGT as a band member of Evi Vine in 2015, he returns this year with his solo material.
Position Parallèle

Minimal Synth | France:
https://www.youtube.com/watch?v=2BuxRZVmuZk
Geoffroy D. is best known as the head of the Military-Pop band Dernière Volonté, which will also make a WGT appearance this year. After a significant development from album to album from raw martial, early recorded work to pop dance numbers, he now lives out his passion for sugary minimum / synth pop with an undiluted flair for memorable melodies in this side project which has already produced two albums. Dance guarantee!
Sangre De Muerdago

Folk, Ambient | Catalonia:
https://www.youtube.com/watch?v=GFwhpfNIuYg
Melancholy naturalist folk for connoisseurs and devotees. Those with In Gowan Ring or Novemthree on their music shelf who aren't yet familiar with this formation really should not miss them. Gripping sounds far from any Neofolk clichés.
Somatic Responses

IDM, Techno, Industrial | Great Britain:
https://www.youtube.com/watch?v=SrZU0FK7Jkk
Those who are into complex break-beats and disturbing, experimental techno and projects such as Aphex Twin, Autechre or the like, will get their money's worth with these two Welshmen. Active since the mid-nineties, this is their WGT premiere.
Sunset Wings

Folk, Neoclassic | Russia:
https://www.youtube.com/watch?v=QAuP_m4YDOg
Founded in 2006 in Kaliningrad, they've so far released 4 albums of the finest romantic East-European oriented Folk. A sound recommendation, not only for friends of similar bands such as Neutral, Romowe Rikoito or Moon Far Away.
Tanz Ohne Musik

Minimal Synth, Industrial | Romania:
https://www.youtube.com/watch?v=L_TXsuozSHk
Ice cold electronics, sometimes psychedelic, sometimes danceable. The Romanian Angst Pop response to November Növelet delighted audiences with their 2013 album "Between Our Body Shapes", which bears the high quality standard of cult label Galakthorrö without a problem. No one had noticed the seven (!) previously released albums -- no wonder, with a circulation of 20.
The Underground Youth

Indie, Psychedelic Rock | Great Britain:
https://www.youtube.com/watch?v=6ySLduW5kpk
This is the sound of the feeling of waking after a wild party early at 5 a.m. with your head on the floor and your legs on the sofa. It's still dark outside, the last people are headed home, and everything is spinning slightly, but there's still a smile on your face. Compulsory for fans of The Jesus And Mary Chain, The Brian Jonestown Massacre, Slowdive or The Blue Angel Lounge.
The Visit

Neoclassic | Canada:
https://www.youtube.com/watch?v=mTnWHJ3ZqsI
In 2012 Raphael Weinroth-Browne performed at WGT with his main band, Musk Ox. This year he returns, accompanied by Heather Sita Black, with his current project The Visit. Virtuoso cello meets enraptured female vocals, simply enchanting.
Treha Sektori

Dark Ambient, Industrial | France:
https://www.youtube.com/watch?v=o4tJI6sWZms
Very interesting French Dark-Ambient project on the cutting edge Cyclic Law label.
Winter Severity Index

Wave, Post Punk | Italy:
https://www.youtube.com/watch?v=ZrIbuPNXPPU
The Cure, New Order, The Chameleons, The Sound, Joy Division - surely that's what stands on the record shelves of these Italians. Simona Ferrucci garnishes this mix with her afflicted, fragile voice. For melting away!