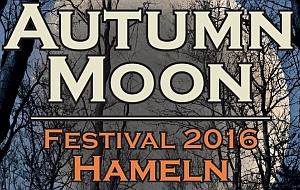 Rattenfängerhalle / Sumpfblume / Schiff-Stage / Outdoor Stages, Hameln, Germany
14th & 15th October 2016
Autumn Moon Festival 2016 with Christian Death, Das Ich, Drescher, Eisfabrik, End Of Green, Heimataerde, L'âme Immortelle, Legend, M.I.N.E. (feat. Marcus Meyn/Camouflage), Moonspell, Namnambulu, No More, Noyce TM, NRT, Ost+Front, Other day, She Past Away, Slave Republik, Spielbann, The Invincible Spirit, The Moon and the Night Spirit, Torul, Visions of Atlantis, Vogelfrey, Welle:Erdball, Whispers In The Shadow, Xandria and many more

Autumn Moon Festival

Hameln, a town in Lower Saxony, Germany, is not only best known for the tale of the "Rat-Catcher of Hamelin", but also for being the home of the extraordinary AUTUMN MOON Festival, an atmospheric festival with a club show feel that will take place in the month of the pumpkin. This year, on October 14 and 15, the AUTUMN MOON is heading into the second round and will present over 40 bands at four venues (all nearby), celebrate in addition to amazing music also inspiring art, present interesting readings and shows, offer insightful workshops, and invite you to take a stroll through the Mystic Halloween Market. As last year, the AUTUM MOON most certainly will be another wonderful gathering of music lovers from all quarters. It's just a place to be, so get your tickets, for the number of visitors is limited to 3,500.
Mystic Halloween Market

Admission to the Mystic Halloween Market will free to everybody with or without a festival wristband. Here music maniacs will meet lovers of the dark ages, fantasy fans, Halloween freaks, the friendly locals and tourists from around the world – a meeting of generations and cultures! We can look forward to culinary delights, many merchants, and skilled manufacturers. The Mystic Stage and the Hill of Theatre will also be located there. And just imagine the unique atmosphere with all creepy creatures and fantastic beings roaming around the illuminated AUTUMN MOON with all the fires, lights, and candles at night on the waterfront of the Weser.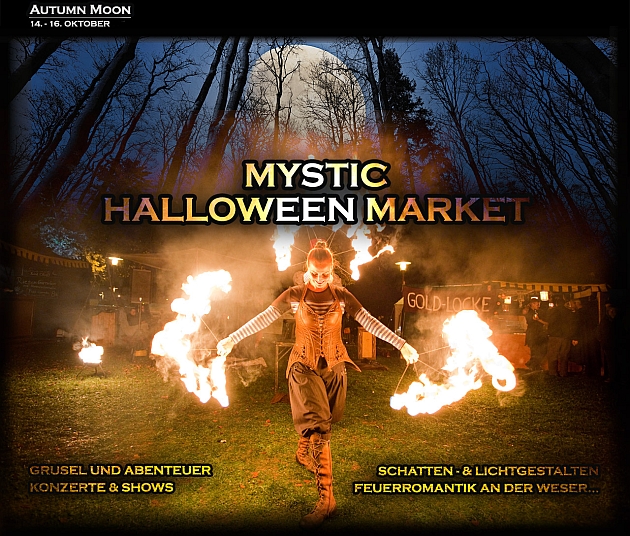 Workshops

Camera Obscura – How to take pictures with a pinhole camera
drum workshop – darbukah or frame drum
Walking Acts

Scary characters such as "Death" and other mystic figures will mingle with the crowd at the festival and the market.
Readings

Herr Christian von Aster
Bettina Bormann: Bettina will read out from her collection of short stories entitled "Das Flüstern der Mördermuscheln"
Oberer Totpunkt (OT) Unplugged: poetry set to music, a musical reading with drums and guest musicians
Shows

Beatrice Baumann: contact juggling
Chudadlo: great fire performance
Moliére: "Die erzwungene Heirat"
Exhibitions

"LIVE(SM)ART"
Live Painting and exhibition "Dysthopia now"
The Venues


The four locations where all the magic will take place are the so-called Rattenfängerhalle, Sumpfblume, Schiff-Stage, and some Outdoor Stages. Fear not, they are all within walking distance. The Rattenfängerhalle will be the main stage of the festival. This concert hall offers enough room to allow 2600 people to have a blast with national and international artists. The program, which is rich in variety, the special lightings and elaborate design of the hall will make it memorable celebration. The Sumpfblume has been an institution of culture in Hameln for over 30 years by now. With its cafe offering regional specialties, this location allows 700 fans to come together. And how about some maritime ambience? Another very special venue will be the steamboat on the river Weser called Schiff-Stage. Only 200 visitors at a time can gather in the ship's salon and enjoy the most intimate concerts of the festival. The Outdoor Stages are located at the Mystic Halloween Market and will offer its visitors readings, shows, and workshops in addition to all the music shows under the open and star-spattered sky.
Line-up

So far, the following acts have been confirmed and some more are about to come: apRon, Christian Death, Circus of Fools, Das Ich, Drescher, Eisfabrik, Elmsfeuer, Elvellon, End Of Green, Florian Grey, Folk Noir, Heimataerde, Ignis Fatuu, Ingrimm, L'ÂME IMMORTELLE, Legend, Lolita komplex, M.I.N.E. (feat. Marcus Meyn/CAMOUFLAGE), Maccabe & Kanaka, Moonspell, Namnambulu, Nihiling, No More, Noyce, NRT, Oberer Totpunkt, Ost+Front, Other day, She Past Away, Slave Republik, Spielbann, The Dolmen, The Invincible Spirit, The Moon and the Night, Spirit, Torul, Tüsn, Visions of Atlantis, Vogelfrey, Welle:Erdball, Whispers In The Shadow, Xandria, Xtr Human, Ye Banished Privateers
Tickets

Currently, early bird tickets are available at
http://pec-tickets.de/tickets
for 55€ (plus fees). Note that these are limited to 500. There's also a special package you can get for 65€ (plus fees). It includes tickets for this year's festival plus a 2015 festival shirt in your size and the colour of your choice (blue, red, or yellow) and goodies.
Get further info about the AUTUMN MOON stay up to date on their website and Facebook page:
http://www.autumn-moon.de
/
https://www.facebook.com/AutumnMoonHameln
Join the event on Facebook:
https://www.facebook.com/events/508030776057870