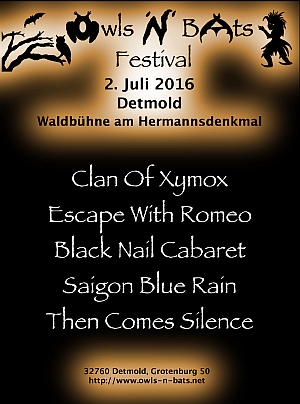 Waldbühne at the Hermannsdenkmal, Detmold, Germany
2nd July 2016
Owls'n'Bats Festival with Black Nail Cabaret, Saigon Blue Rain, Then Comes Silence, Escape with Romeo, Clan of Xymox

Summer - it's a time that creatures of darkness prefer to spent in the shade. On a special day, though, such as July 2, we like to get out, leave our caves and coffins, and do a pilgrimage to special locations, like the Waldbühne at the monument called Hermannsdenkmal in Detmold, Germany, located in the midst of nature. What for? Of course to join in the wonderful Owls'n'Bats open air festival, which enriches the dark scene since 2014, for a truly "black celebration" in the woods of the Teutoburg Forest. This year's line-up once again sounds very promising: We'll be bewitched by BLACK NAIL CABARET, SAIGON BLUE RAIN, THEN COMES SILENCE, ESCAPE WITH ROMEO, and CLAN OF XYMOX. The Owls'n'Bats a must go for everybody into Dark Electro and Electronica, Indie, Shoegaze, Gothic Metal, Darkwave, Goth Pop, Post Punk, Alternative Rock and Gothic Rock!
In addition to listening to five music acts, you can also take a stroll through the "Schattenmarkt" there and check out some unique merch, fashion, accessories, jewelry and furniture. This year, Batcave-Design, Doriel Design, Fräulein Bine, JNB Media, Bat-Kitty, Dark-Living, Cantara and FlezArt will present their handcrafts at the "market of shadows". And especially to those coming from afar: Don't miss visiting the sacred site "Externsteine", a famous sandstone rock formation that is also located in the Teutoburg Forest! So, dear owls and bats, ladies and gents, get your tickets soon, for they are limited to 999 nocturnal creatures.
Tickets

Tickets are available at
https://www.adticket.de/Owls-N-Bats-Shop.html?format=raw
for 26.30€ (plus some fees). Locals can also get limited hard tickets for 27€ in the following towns and stores:
in Detmold: Buchhandlung Kafka & Co (Krumme Straße 8, Detmold)
in Bielefeld: konTicket (City Passage, Bahnhofstraße 28, Bielefeld)
in Paderborn: Ticket Direct (Königstraße 62, Paderborn)
Tickets at the door will be 29€.
Additional Info

Parking: free
Accessibility: Festival area is well accessible and passable, a public toilet for wheelchair users with Euro-WC key is available (200m, at the Hermannsdenkmal gastronomy)
Camping: not possible
Admittance: 18 +
Open gates: 2pm
Start: 3pm
End: midnight
Website:
http://www.owls-n-bats.net
Event on Facebook:
https://www.facebook.com/events/562656577224813/
Band Info

Info Black Nail Cabaret:
http://www.blacknailcabaret.com
/
https://www.facebook.com/bncband
/
https://blacknailcabaret.bandcamp.com/
Info Saigon Blue Rain:
https://www.facebook.com/SBRofficial
/
http://saigonbluerain.bandcamp.com/
Info Then Comes Silence:
http://thencomessilence.bandcamp.com/
/
https://www.facebook.com/thencomessilence/
Info Escape with Romeo:
http://www.escape-with-romeo.de
/
https://www.facebook.com/escapewithromeospain
Info Clan of Xymox:
http://www.clanofxymox.com/
/
https://www.facebook.com/clan-of-xymox-111769160178/