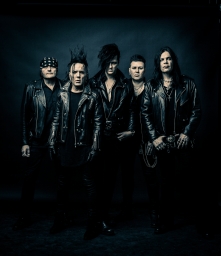 Some when in the early nineties, Jyrki 69, singer of THE 69 EYES, wanted to pre-listen to the new record of THE CRAMPS in his favourite records store. "Come on, Jyrki", said the seller, "that's the new album of THE CRAMPS!" All the same, Jyrki thought, 'Universal Monsters' must run. People should say: That's the new record of THE 69 EYES, you don't have to pre-listen. It is good anyway. That's the Goth'n'Roll the Fins are producing for nearly 25 years now. Or at least since 2000 when they developed their signature sound together with producer Johnny Lee Michaels.
Michaels also was on board this time and did not only produce the new record and developed the arrangements, but also played keyboards himself and delivered some backing vocals. Nothing to wonder that THE 69 EYES are on top again: sleazy and greasy rock with dark and slow passages are mixed with songs which seem to come directly from the garage bringing the Goth into the Rock as you know it. The voice of Jyrki69 still carries the gloomy feel like his dark lyrics; and every song is different. Just this variety is very attractive. No question that during live shows, a lot of JOY DIVISION or SISTERS, but also Boris Karloff and of course many 69 EYES shirts are seen within the audience. Yes, the eleventh studio album of THE 69 EYES is great and typical; and their live shows are legendary anyway. In November, the band is back in Germany for a few concerts, presented by Sonic Seducer, metal.de and Reflection of Darkness.
Dates

11.11.2016 Dresden - Reithalle Straße E - Support: Vlad In Tears
15.11.2016 Erfurt - HsD Gewerkschaftshaus - Support: Nim Vind
16.11.2016 Saarbrucken – Garage - Support: Nim Vind
17.11.2016 Nuremberg – Hirsch - Support: Nim Vind
18.11.2016 Hanover – Musikzentrum - Support: Nim Vind
Tickets for the shows are available for 20 euros plus charges (pre-sale) at all known CTS offices, via hotline +49 (0) 1806 – 853653 as well as via
www.fkpscorpio.com
and
www.eventim.de
.
More info:
www.69eyes.com
,
www.facebook.com/the69eyes