Stadthalle Chemnitz, Chemnitz, Germany
25th December 2016
Dark Storm 2016 with VNV NATION, DIARY OF DREAMS, COMBICHRIST, SUICIDE COMMANDO, JOACHIM WITT, DAS ICH, ROTERSAND, THE SEXORCIST, MACHINISTA, PATENBRIGADE:WOLFF, HELDMASCHINE, ACCESSORY, FELSENREICH

The DARK STROM FESTIVAL is celebrating its 20th jubilee this year! On this occasion, doors will be open half an hour earlier than usual for you, 13 instead of 12 bands will hit the stage, and the headliner, legendary VNV NATION, will play their full set (90 min.)! Check out the running order and the various bands that will make this year's festival in Chemnitz memorable.
4:15 pm – 4.45pm (Headquarter): Local Dark Rockers FELSENREICH will open the festival. It will be rocking, and also melancholic, and even spherical.
5:05pm – 5:45pm (Headquarter): Get ready for HELDMASCHINE who will blow you away with their Industrial riffs, Electro sounds, and the force of "Neue Deutsche Härte".
5:30pm – 6:10pm (Second Floor): More EMB sounds and dance floor grooves from Chemnitz – the duo ACCESSORY has promised to play their latest song 'Too Many Nights' at the festival.
6:05pm – 6:45pm (Headquarter): Enjoy the melodies of Synth Electro Pop duo MACHINISTA from Sweden.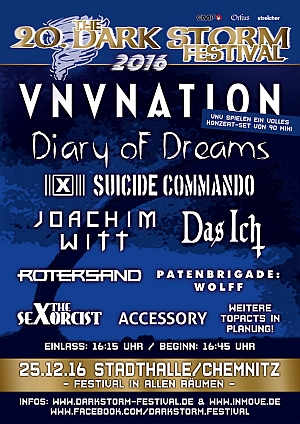 6:25pm – 7:05pm (Second Floor): The duo THE SEXORCIST have released their debut album 'Klangkörper' last year. This year, AGONOIZE front-man Chris L. and his partner in crime Gunnar Kreuz have returned with their vision of a new version of Electronic Body Music: Their latest EP 'This is Erotic Body Music' is "raw, minimalist, melodic and relentlessly floor filling." THE SEXORCIST play "Synth Pop with balls"!
7:05pm – 7:45pm (Headquarter): Next up is a man who has created 16 albums, is changing genres, mixing styles, and reinventing himself over and over again: Over the course of a couple of decades, JOACHIM WITT has earned the status of being one of the most exceptional artists in the German music scene. His fans celebrated him at this year's Amphi Festival and now get another chance to listen to the vocalist at Dark Storm.
7:20 – 8:00pm (Second Floor): Berlin-based "Electronic Building Music" act PATENBRIGADE: WOLFF will perform their creative and danceable tunes based on the concept of construction work.
8:05pm – 8:45pm (Headquarter): DAS ICH, the founders of "Neue Deutsche Todeskunst" (transl. New German Death Art), will serve you an innovative cocktail of Electronic, Symphonic, and Industrial sounds mixed with great German lyrics. This can only be good.
8:20pm – 9:10pm (Second Floor): It's time again to meet up with German Electro duo ROTERSAND, your "friend who has been accompanying you for a whole decade on your nocturnal hunt's Post-Industrial amusement." Check out their forthcoming album titled 'Capitalism TM' before the festival; it will be out on November 4. And then celebrate the "complex elegance" of their masterful melting of the beautiful and the beastly live at Dark Storm.
9:05pm – 9:55pm (Headquarter): Party with the wild Norwegian-American group COMBICHRIST, if you're a Metal head who's into raw Aggrotech and Rhythm 'n' Noise smashers. Let's see if drum parts will fly around again as the band unleashes its madness on stage.
9:50pm – 11:15pm (Second Floor): With their psychotic shouts, hard beats, and dark sound spaces Harsh Electro pioneers SUICIDE COMMANDO will take you on an infernal trip exploring the dark side of humanity. "See You in Hell!"
10:15pm – 11:05pm (Headquarter): DIARY OF DREAMS - Is there anyone else who can combine melodic melancholia and brute force the way this one of a kind Electronic Darkwave group have been doing for over two decades?! You can look forward to an insanely intense live show with exceptional vocalist Mr. Adrian Hates and his band mates.
11:25pm – 0:55am (Headquarter): Finally, Synth Pop heroes VNV NATION, who've been sharing their music with us for over a quarter of a century and have already enthralled this year's M'era Luna crowd as the headliner, will make the Dark Storm shine.
In addition to all these top musical acts, two special guests will guide us through the dark evening this year: star forensic scientist, DJ, politician, animal welfarist, and moderator DR. MARK BENECKE and DJ E.L.V.I.S., who is known for moderating at the WGT, will entertain you. Dear DARK STORM friends, this year's festival promises to be a special one, so come out where ever you are and gather together for a black Christmas holiday!
Additional Festival Info

Venue: Stadthalle Chemnitz
Doors: 15:30pm
Starts: 16:15pm
Tickets: are available for 41.95 € at
http://www.city-ticket.de/extern/festivals/20.-dark-storm-festival
or
www.eventim.de
Info:
http://www.darkstorm-festival.de/
/
https://www.facebook.com/darkstorm.festival
/
https://www.facebook.com/events/1062762557150180/