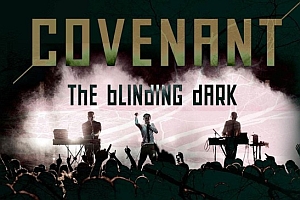 Markthalle, Hamburg, Germany
12th November 2016
Covenant & Faderhead

COVENANT is a Swedish band existing since April 1986. In the first time, they played something in the direction of electro. With their new albums they tend to future pop. But they say that they're not leaving Babylon - not yet, after 22 years when they brought out their first album 'Dreams of a Cryotank' in 1994. COVENANT are known and recognized for their ritual noise, bass and intoxicating voices and texts. Standing still is not an option on this evening!
During the first time they got known especially in the electro scene in Germany. Europe was no border for them, they even got a bit famous in the USA since 1996 ('Sequencer') and after a small tour in the USA in 1997. On November 4th they'll release their new album 'The Blinding Dark' which tells how to see in the dark in a world which sometimes is really confusing with false hopes and no deeper sense. Their motto: Shut the eyes, go straight to the future and never look back!
COVENANT will perform at Markthalle in Hamburg and will be supported by FADERHEAD, a band project from Hamburg.
Additional Concert Info
Doors: 8:00 pm
Starts: 8:45 pm
Tickets: can be bought for 32.95€ (plus fees) at
www.eventim.de
or at
https://www.ticketonline.de
Info Event:
http://markthalle-hamburg.de/konzerte/covenant-the-blinding-dark-tour-2016/2016-11-12/
Info COVENANT:
http://www.covenant.se
/
https://www.facebook.com/Covenant-OFFICIAL-156626197713557/
Info FADERHEAD:
http://faderhead.com/blog/