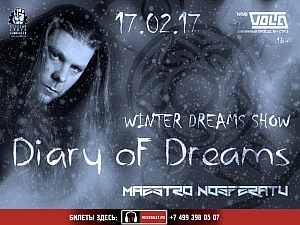 Volta, Moscow, Russia
17th February 2017
Diary of Dreams
The stars of the German darkwave DIARY OF DREAMS are returning to Russia with special winter concerts. DIARY OF DREAMS has more than twenty years at the forefront of a dark scene and writes the warmest and saddest songs on the intersection of electronics and guitar sound, gothic anthems with dance rhythms and poignant ballads, where guitars and moaning in agony beat synthesizers.
Each track is a journey to the dark side in the world of strange fantasies and experiences of permanent band leader Adrian Hates. The music at the same time is full of anxiety and despair and the latent power which helps to overcome fear and conducts through the dark labyrinths of consciousness towards the light, hope and dream. Now the band is busy with recording a new album, tentatively scheduled for the second half of 2017. Musicians briefly interrupt studio sessions specifically to perform in Russia.
So we probably have a rare chance to not only be the first to hear something from the not yet published material, but also give the group fresh emotions and inspiration, helping them to continue to work on new music!
The concert will be supported with Russian band MAESTRO NOSFERATU!
Additional Concert Info

Doors: 7:00 pm
Start: 8:00 pm
Tickets: can be bought for 2000 rub at
http://www.muzzbilet.ru
/
http://www.ponominalu.ru
/
http://www.concert.ru
/
http://popmarket.ru
Info Event:
https://www.facebook.com/events/388965418103105
Info Diary of Dreams:
http://www.diaryofdreams.de/ru