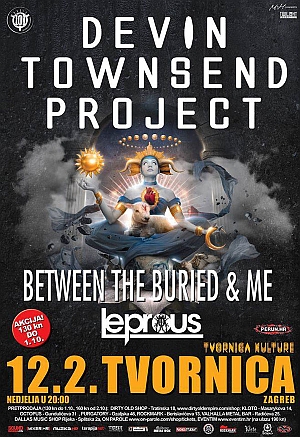 Tvornica Kulture, Zagreb, Croatia
12th February 2017
Devin Townsend Project, Between the Buried and Me, Leprous

Metal legend Devin Garrett Townsend, Canadian musician and songwriter, with his DEVIN TOWNSEND PROJECT and guests BETWEEN THE BURIED AND ME and LEPROUS, will play at Tvornica Kulture in Zagreb on 12th February 2017. The concert is part of the "Transcending The Coma Tour 2017" which is promoting the new album 'Transcendence'. This is Devin's second visit to Zagreb, where he was five years ago with FEAR FACTORY. BETWEEN THE BURIED AND ME will promote as well their latest album 'Coma Ecliptic', while Norwegian progressive metal band LEPROUS will promote their album 'The Congregation'.
Check DEVIN TOWNSEND PROJECT's 'Kingdome' video
HERE
. If you are from Croatia, Slovenia, Bosnia and surrounding, the Zagreb concert is the closest to you, also for other countries it is a good excuse for quick visit to beautiful Croatia. The tour started and tickets are quickly disappearing! I just checked, VIP upgrade packages (ticketless) are still available for the Zagreb show
here
! Detailed tour preview with all dates is
here
!
Additional concert info

Start: 20:00
Ticket fee: 160kn (presale) / 190kn (entrance)
Online tickets:
https://www.on-parole.com/shop/view/devin-townsend-project-between-the-buried-me-leprous-zagreb-12-02-2017-ticket
/
http://www.eventim.hr/hr/ulaznice/devin-townsend-between-buried-me-zagreb-tvornica-kulture-436890/event.html
Info (in Croatian language):
http://www.tvornicakulture.com/tvornica-kulture-2017-02-12-townsend.html
Facebook event page:
https://www.facebook.com/events/1747864312118145