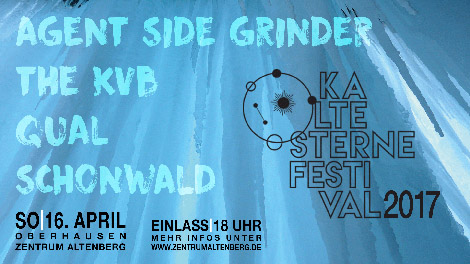 Das Bett, Frankfurt & Zentrum Altenberg, Oberhausen, Germany
15th & 16th April 2017
Kalte Sterne Festival with Agent Side Grinder, The KVB, Qual and Schonwald

After the grandiose start at Easter 2016, Easter 2017 presents the second edition of the Kalte Sterne Festival in Frankfurt / Main and Oberhausen. The event is presented by
nachtplan
. After the concerts in Oberhausen, you have the after-show party
Düsterdisco
at Eisenlager Oberhausen. The day before, in Frankfurt, you can take part in the Desperate Society Party after the concerts. The line-up presents four bands, headliner of the evening is AGENT SIDE GRINDER, one of the last shows in current line-up.
AGENT SIDE GRINDER bring a special combination of post-punk and synth wave. The Swedish five can do it with a shot nostalgia, in the most positive sense, to transport the style of an era to the present. The powerful live performance with the charismatic presence of singer Kristoffer Grip makes absolutely no one indifferent. A thrilling atmosphere with dramatic pop melodies from dark melodic arches and dark-electronic bass channels!
https://www.facebook.com/agentsidegrinder
/
http://www.agentsidegrinder.com
/
https://agentsidegrinder.bandcamp.com
/
https://www.youtube.com/user/agentsidegrinder
THE KVB combine gothic, abstract themes with a love for shoegaze guitars and minimal synth sound. The lost vocals, psychedelic guitars and hard beats characterize the unique sound of the English duo. Flavours in the direction of hypnotic minimal wave and growling post-punk will definitely get their darkest Psychocandy-esque hot hungry satisfied.
https://www.facebook.com/thekvbmusic
/
http://www.thekvb.co.uk
/
https://thekvb.bandcamp.com
/
https://www.youtube.com/user/SuicidePartyuk
QUAL is the solo project of William Maybelline (Lebanon Hanover). Nightmare visions, desperately in a frowning black tower of pain, are processed here. Hidden desires of a desolate heart trying to scratch this rotting itch from within. Centuries of grief, soaked in gloomy electronics that pound like human passions.
https://www.facebook.com/qual.death
/
https://qual.bandcamp.com
/
https://www.youtube.com/channel/UCUSRm7Iv5Nz4nD1_c-yrkdg
SCHONWALD enchant with a mix of Darkwave, Dream-Pop and Shoegaze. The duo from Italy brings gloomy melodies with ingratiating melancholic keyboard and guitar sounds on the stage. With the rhythm of the drum machine paired with dreamy vocals and the right portion of psychedelic to distorted guitar, they bring the club temperature on dance level with endless seeming layers of hypnotizing synths.
https://www.facebook.com/schonwald.music
/
https://schonwald.bandcamp.com
/
https://www.youtube.com/user/alegismo
Additional Concert Info Frankfurt

Doors: 18:00
Start: 19:00
Tickets: 28.50 euros plus charges (pre-sale) via
AD Ticket
or 30.00 euros at the door
Facebook Event:
https://www.facebook.com/events/449548678502644/
Additional Concert Info Oberhausen

Doors: 18:00
Start: 18:30
Tickets: 26.00 euros plus charges (pre-sale) via
http://www.zentrumaltenberg.de/tickets
(without charges directly at the venue) or 32.00 euros at the door
Info:
http://www.zentrumaltenberg.de/programm/konzert/20170416_kaltesterne
Facebook Event:
https://www.facebook.com/events/560485770811911/