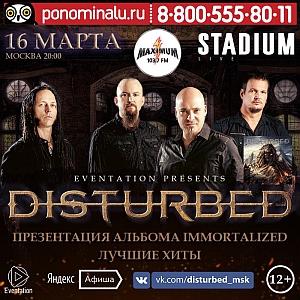 Stadium, Moscow, Russia
16th March 2017
Disturbed

DISTURBED return to Russia after 13 years with big solo concerts in Moscow and St. Petersburg and the presentation of the album 'Immortalized'. After five years of silence, the multiple nominees for the Grammy, who sold more than thirty million copies of discs, return to Russia. DISTURBED will not only present songs from their latest album to the Russian fans, but also their best hits from already more than twenty years.
DISTURBED started their way to the top of musical Olympus more than twenty years ago in Chicago. The band has released six studio albums, four of them received platinum status, their tracks have consistently led the world top charts, including the Billboard 200. After the release of the extremely successful album 'Asylum' in 2011, the band announced indefinite hiatus. Their decision was based on systemic crisis in the rock industry, as well as the desire to engage in personal projects, thus assuring fans that the sudden decision was not the result of an internal split in the group.
In June 2015, DISTURBED officially returned with a strong track, 'The Vengeful One', which has a classic metal sound. Songs from the newest album were at top of the world's music charts and stood in a heavy rotation on radio stations not only in the US but also in Russia. The musicians believe that their plan had succeeded and the return to the world music scene was exactly as they imagine it represented.
Additional Concert Info

Doors: 7:00 pm
Starts: 8:00 pm
Tickets: can be bought for 4,000
https://ponominalu.ru/event/disturbed
Info Band:
https://www.facebook.com/Disturbed
/
http://www.disturbed1.com
Facebook Event:
https://www.facebook.com/events/1596327717330548/