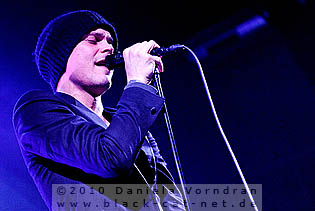 HIM say adieu after 26 years and announce their "Farewell Tour" 2017. Hails to almighty HIM for their heavy and heartfelt Heartagram hymns! Now, after 26 years and eight outstanding and truly unique studio albums, the Love Metal legends from Finland are calling it a day. I personally cannot find the words to express my eternal gratitude to these one of a kind songsmiths, my very first favorite band, the band that took me on the great journey to the underworld of music... Thank you for every single tune from 'Greatest Lovesongs Vol. 666' (1997) to 'Tears on Tape' (2013)! On the band's Facebook page, front man and exceptional vocalist Mr. Ville Hermanni Valo announces:
"After quarter of a century of Love and Metal intertwined we sincerely feel HIM has run its unnatural course and adieus must be said in order to make way for sights, scents and sounds yet unexplored. We completed the pattern, solved the puzzle and turned the key. Thank you."

Dear "HIManiacs", come out wherever you are, to celebrate Love Metal live for one last time together with Ville, Mige, Linde, Burton, and Kosmo! HIM are inviting us to join them in their "Farewell Tour", which will take them to 14 countries across 35 shows for their final goodbye. Long live Love Metal! As bassist Mige says, there's no reason to cry:
"At the end of 2017 we will be released into the wild. Before this event of great transformation we would love to offer you one last chance to experience our live performances in His Majesty's service. It shall not be a weepfest but a celebration of love metal in all its lovecraftian glory! See you there!"

Tour Dates (so far):

June 14 – Spain, Barcelona, Razzmatazz
June 15 – Spain, Madrid, La Riviera
June 16 – Spain, Santander, Sala Escenrio
June 17 – Portugal, Porto, Hard Club
July 01 – Finland, Helsinki, Tuska Festival
July 13 – Finland, Tuuri, Miljoonarock
Nov. 24 – Russia, St Petersburg, Dk Lensoveta
Nov. 25 – Russia, St Petersburg, Dk Lensoveta
Nov. 26 – Russia, Moscow, Club Stadium Live
Nov. 28 – Poland, Warsaw, Stodola
Nov. 29 – Germany, Hamburg, Docks
Dec. 01 – Germany, Berlin, Columbiahalle
Dec. 02 – Czech Rep., Prague, Forum Karlin
Dec. 04 – Germany, Leipzig, Haus Auensee
Dec. 05 – Germany, Munich, Tonhalle
Dec. 06 – Switzerland, Zurich, X-Tra
Dec. 07 – Italy, Milan, Alcatraz
Dec. 08 – Germany, Cologne, Palladium
Dec. 09 – Luxembourg, Esch-Sur-Alzette, Rockhal
Dec. 11 – Holland, Amsterdam, Paradiso
Dec. 12 – Holland, Tilburg, 013
Dec. 14 – Scotland, Glasgow, Barrowland
Dec. 15 – England, Nottingham, Rock City
Dec. 16 – England, Manchester, Academy
Dec. 17 – England, London, Roundhouse
The U.S. and more Finnish dates will be announced soon.
Additional Concert Info

Tickets: go on general pre-sale on Wednesday, 8th March, at 9am.
Info HIM:
http://www.heartagram.com
/
http://www.facebook.com/theheartagram