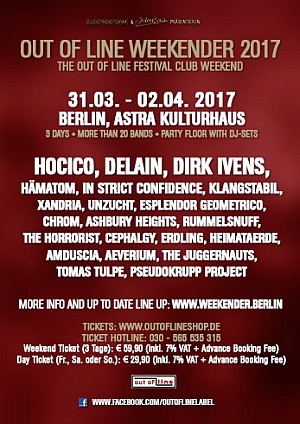 Astra Kulturhaus, Berlin, Germany
31st March to 2nd April 2017
Out of Line Weekender 2017 with Hocico, Delain, Dirk Ivens, Hämatom, In Strict Confidence, Klangstabil, Xandria, Unzucht and many more

Berlin's biggest event from the scene for the scene is becoming bigger, more versatile and freakier than ever – perfectly in line with Europe's hottest capital city. Our thinking was: Let's give you guys something different, outstanding and über-cool by bringing together a one-of-a-kind selection of the most interesting acts in the scene and beyond! It will take place from March 31st to April 2nd, 2017 at the Astra Kulturhaus, right in the heart of Friedrichshain-Kreuzberg which is one of the German capital city's most popular districts.
The line-up will consist of more than 20 bands, this time around, and will again be flanked with aftershow parties, our grand Out Of Line merch booth and a fine selection of food and drinks. Confirmed headliners are Mexican Hard-Electro-legend HOCICO, Dutch Symphonic-Metal-heroes DELAIN and scene-innovator DIRK IVENS, who will be performing a selection of highlights from a career spanning more than three decades. Other confirmed acts are, among others, HÄMATOM, XANDRIA, KLANGSTABIL, and more. Details below.
Line-up ( Headliner first, Opener last)

Friday

DIRK IVENS, IN STRICT CONFIDENCE, ESPLENDOR GEOMETRICO, RUMMELSNUFF, HEIMATAERDE, THE JUGGERNAUTS, TOMAS TULPE
Aftershow Party: DJ dRiLL (Terror Dance, Elite Electronics), DJ Chris L. (Agonoize/The Sexorcist)
Saturday

HOCICO, KLANGSTABIL, CHROM, ASHBURY HEIGHTS, THE HORRORIST, AMDUSCIA, CEPHALGY, PSEUDOKRUPP PROJECT
Aftershow Party: DJ dRiLL (Terror Dance, Elite Electronics), DJ Sascha (Transition Party, Silver Wings)
Sunday

DELAIN, HÄMATOM, XANDRIA, UNZUCHT, ERDLING, AEVERIUM
Tickets

Weekend tickets are available for 59.90€ + advance booking fee, day ticket for 29,90€ + advance booking fee. Box office prices are higher, as usual. You will be able to get hard tickets at
WWW.OUTOFLINESHOP.DE
or at Darkstore Berlin (Boxhagener Str. 23). Normal tickets available at any box office or at:
www.ticketmaster.de
or
eventim.de
.
Venue

The Out Of Line Weekender is located in the Astra Kulturhaus in Berlin Friedrichshain. You can point your navigation system to "Revaler Strasse 99" in "10245 Berlin" and look for a parking spot nearby. Arriving via train, take the exit on "Warschauer Strasse" - it's a short walk of about 5 minutes.
Accommodation

Taking place right in the middle of the capital city of Germany, there is not camping area nearby. Cheap hotels are rare, so better look out for Airbnb or similar offers. You might also consider the ScubePark Berlin (
http://www.scubepark.berlin
).
More information:
http://www.weekender.berlin/