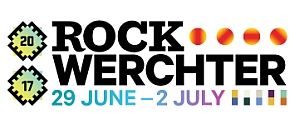 Festivalpark, Werchter, Belgium
29th June to 2nd July 2017
Rock Werchter 2017 with Radiohead, Arcade Fire, Blink 182, System Of A Down, Linkin Park, Kings of Leon, Foo Fighters, Imagine Dragons, Alt-J, The Chainsmokers, and many more

One of Europe's top music festivals is held from Thursday 29 June to Sunday 2 July 2017 in Werchter (Belgium). Four days, three stages. The best headliners, fiery young stars, hard-bitten rockers, singer-songwriters and the fattest beats are awaiting you.
There's no doubting Rock Werchter's commitment to every musical genre. The Festivalpark in Werchter ticks all the boxes. Best line up? Oh, yes. Good food and drink? Check. Technical innovation and production? Top class. Comfort? Excellent. Tents as good as concert halls? You bet. Festival atmosphere? Through and through. Rock Werchter is a multiple award winning international hit. Close to 150,000 festival-goers found their way to Rock Werchter over the four days of the festival in 2016.
Line-up

Expect around 75 acts! Acts already confirmed include Radiohead, Arcade Fire, Blink 182, System Of A Down, Linkin Park, Kings of Leon, Foo Fighters, Imagine Dragons, Alt-J, The Chainsmokers, and more. For all the details so far please see the
line-up page
. There's more still to be announced.


Tickets

http://www.rockwerchter.be/en/tickets
Tickets are priced at 236 euros. One day tickets are priced at 100 euros.
Additional Info

For detailed information about various aspects of the festival see the
Rock Werchter Information
(includes detailed info on camping, travel, children, food & drink, and more).
Official Website:
http://www.rockwerchter.be/en
Facebook:
https://www.facebook.com/rockwerchterfestival/