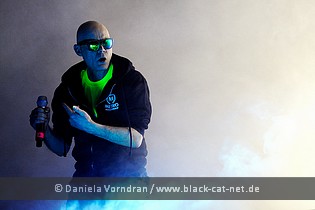 FZW, Dortmund, Germany
24th September 2017
The Sisters of Mercy

Goth Rock fans in Germany are in for a treat as cult band THE SISTERS OF MERCY will return to headline six dates this September. It's been over three decades that these legends from Leeds, Britain, have released their debut, 'First and Last and Always' (1985). Only two more studio albums followed: 'Floodland' (1987) and 'Vision Thing' (1990). Still, THE SISTERS are celebrated as icons because of their truly timeless tunes that are gloomy and danceable at the same time: Just think of 'The Temple of Love', the 'Flood' songs, 'Dominion / Mother Russia', 'This Corrosion', 'Marian', 'More', or 'Lucretia My Reflection'. Despite the lack of new recordings, THE SISTERS remain active as performers presenting new versions of their classics, some unreleased material, and also extraordinary covers ranging from DICK DALE over LORRY YELLOW LORRY to THE ANDREW SISTERS; the latter's band name simply calls for a cover.
So, boys and girls, young and old, get your tickets, fetch your fog lamp and relive the 80s together with vocalist Andrew Eldritch, his guitarists Chris Catalyst and Ben Christo, and of course the world-famous drum machine Doktor Avalanche! On September 24, the "intellectual love gods" THE SISTERS OF MERCY will step in and out of the fog on the FZW stage in Dortmund. Don't miss the "industrial groove machine"!
German Tour Dates

Sep 7 - Docks, Hamburg
Sep 12 - Columbiahalle, Berlin
Sep 17 - Schlachthof, Dresden
Sep 18 - Longhorn, Stuttgart
Sep 23 - Schlachthof, Wiesbaden
Sep 24 - FZW, Dortmund
Additional Concert Info

Doors: 7:00pm
Starts: 8:00pm
Tickets: exclusive pre-sale for 40.05€ (plus fees) per ticket
HERE
starting March 29
Info: www.the-sisters-of-mercy.com
Facebook Event: https://www.facebook.com/events/955640737905593/
Get your SISTERS merch
HERE
!