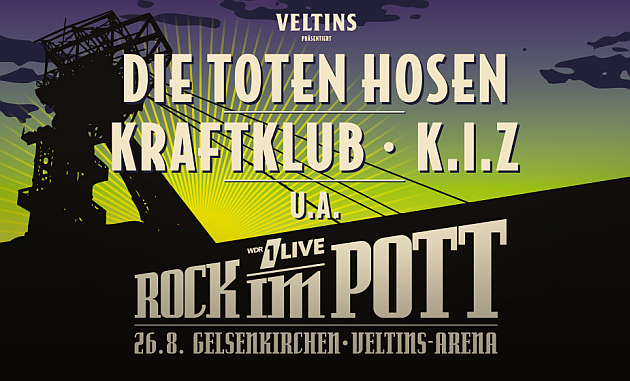 VELTINS-Arena, Gelsenkirchen, Germany
26th August 2017
Rock im Pott Festival with Die Toten Hosen, Kraftklub, K.I.Z, and others

The new edition of ROCK IM POTT is under the banner of DIE TOTEN HOSEN as the band's NRW premiere of their upcoming tour will be taking place at this spectacular festival. August 26 marks the third edition of this one-day-festival that is home at the Veltins-Arena in Gelsenkirchen, Germany. Two further smashing acts, KRAFTKLUB and K.I.Z., complete this year's rocking and rapping line-up.
ROCK IM POTT is presented by VELTINS and combines an emotional festival feeling with stadium vibes. Over the years, fans have experienced rigorous, exciting rock acts in a fast paced rhythm. The first two editions of ROCK IM POTT have thrilled ten thousand fans with the help of RED HOT CHILI PEPPERS and SYSTEM OF A DOWN.
For rockers
DIE TOTEN HOSEN
the festival is something like a home game. Five years after the release of their outstanding album 'Ballast der Republik' (transl. 'Burden of the Republic'), the new single 'Unter den Wolken' (transl. 'Under the Clouds') and a highly anticipated album called 'Laune der Natur' (transl. 'Whim of Nature') will be out on May 5. As always, the fans can look forward to a grandiose performance of the band with all the classic hits and new songs. Check out the new 'Under den Wolken' clip here: https://youtu.be/PwzDFFH3CMk
KRAFTKLUB
are one of the furious success stories of the recent past. With their debut album 'Mit K' (transl. 'With k') the quintet from Chemnitz came into the limelight in 2012. Also their second record titled 'In Schwarz' (transl. 'In Black') hit the charts. Since then, KRAFRKLUB have sold out arena tours and the biggest festivals. Their albums were awarded several times with gold and platinum. The band also established their very own festival with "Cosmonaut". At the beginning of last June, they released their new album 'Keine Nacht für Niemand!' (transl. 'No night for no one!'). Here's KRAFTKLUB's latest music video 'Fenster': https://youtu.be/tJB89tfZ1e0
German rap act
K.I.Z
will put a last provocative exclamation mark at ROCK IM POTT as part of its current, outstanding tour chapter. Rest assured that there will be a lot of sarcasm and a simply massive show. Actually, this applies to all three acts of the ROCK IM POTT 2017! Official video of 'Hurra die Welt geht unter' by K.I.Z. ft. HENNING MAY: https://youtu.be/XTPGpBBwt1w
Additional Festival Information

Doors: 2pm
Starts: 4pm
Tickets: available on pre-sale at
TICKETMASTER
and
EVENTIM
from 39€ (plus fees); or via the ticket hotlines: +49 (0) 1806 – 999 0000 / +49 (0) 1806 – 57 00 70. Parking tickets can be bought in advance
HERE
.
Info ROCK IM POTT: www.rock-im-pott.com / www.facebook.com/rockimpott
Info DIE TOTEN HOSEN: http://www.dietotenhosen.de/ / http://www.facebook.com/dietotenhosen
Info KRAFTKLUB: http://www.kraftklub.to/ / https://www.facebook.com/kraftklub
Info K.I.Z.: http://www.k-i-z.com/ / https://www.facebook.com/KIZ/
Event on Facebook: https://www.facebook.com/events/194814261019198/