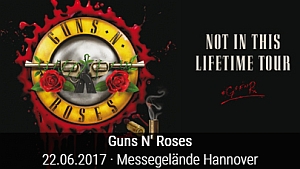 Messegelände, Hanover, Germany
22nd June 2017
Guns n' Roses "Not In This Lifetime Tour" - Special Guests: Killing Joke, Phil Campbell and the Bastard Sons

The resurrected GUNS N' ROSES are now heading for Europe after their massive success in North and South America. The record breaking "Not In This Lifetime" tour of the legendary Rock formation stops in June / July ao. in Zurich (07.06.), Munich (13.06.), Hanover (22.06.) and Vienna (10.07.).
So far the return of the acclaimed band with their original members Axl Rose, Slash and Duff McKagan has excited more than two million fans. It became clear that the attitude, influence and emphasis of GUNS N' ROSES and the Rock'n'Roll genre are stronger than ever. Songs such as 'Sweet Child O' Mine', 'Welcome To The Jungle', 'November Rain' and 'Paradise City', or ingenious interpretations of 'Knockin' On Heaven's Door' and 'Live And Let' are still electrifying millions of enthusiastic spectators. With more than 100 million albums sold, as well as completely sold-out open air performances and festivals, GUNS N' ROSES is and remains one of the most important and influential bands in the history of music. They are considered the benchmark for vehement live performances.
By no means you should miss one of the rare possibilities to see them live!
Additional Concert Info

Doors: 3:30pm
Starts: 7:00pm
Tickets: are available from 97.65€ (pre-sale plus fees)
HERE
and at
Ticketmaster
Info: http://www.hannover-concerts.de/termine/guns-n-roses/
More on
Guns n' Roses
,
Killing Joke
,
Phil Campbell and the Bastard Sons