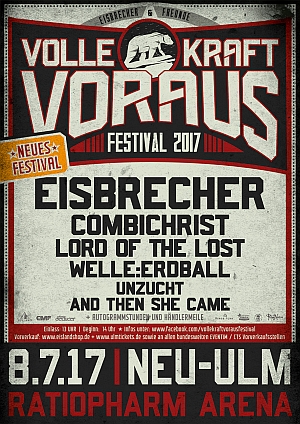 Ratiopharm Arena, Neu-Ulm, Germany
8th July 2017
"Volle Kraft Voraus" Festival 2017 with Eisbrecher and Friends

The EISBRECHER "Volle Kraft Voraus" Festival celebrates in premiere in 2017 at the Ratiopharm Arena in Ulm. A storm is approaching and it is getting cold... In 2017, EISBRECHER return to start a new ice age. Before the boat leaves in the autumn of 2017 to the great "Sturmfahrt", Captain Alex Wesselsky and Noel Pix are completing the 'Shock' era with a spectacular final. The machine is ready, the compass firmly in the eye, EISBRECHER take course on the premiere of their summer event "Volle Kraft Voraus", which rocks the Ratiopharm Arena on July 8for the first time.
So much for frigus fugit... Hot-cold to 18 below zero a total of six bands (COMBICHRIST, WELLE:ERDBALL, LORD OF THE LOST, UNZUCHT + AND THEN SHE CAME) and a top location (air-conditioned - independent of weather - partly seats), plus open air chills-out area, food area, selected traders and autograph hours, mage the toughest ice shield to burst.
More information about the event (children, disabled people, parking etc.) is available via http://www.eisland-entertainment.de/events.html. We'll keep you informed about news during the next weeks. There will be lots of surprises for you.
Line-up: EISBRECHER and Friends - "Volle Kraft Voraus" Festival 2017

EISBRECHER
COMBICHRIST
WELLE:ERDBALL
LORD OF THE LOST
UNZUCHT
AND THEN SHE CAME
Additional information

08. July 2017 Neu-Ulm | Ratiopharm Arena
Doors: 13:00
Start: 14:00
Tickets: Original Tickets are available here: http://www.eislandshop.de/de/vkvfestival2017.html
Computer- or Fan tickets are available via
https://goo.gl/3Bqesw
,
Ticketmaster
and all known pre-sale offices.
Infor: www.eis-brecher.com / www.eisland-entertainment.de
More on
Eisbrecher
Source: result Promotion