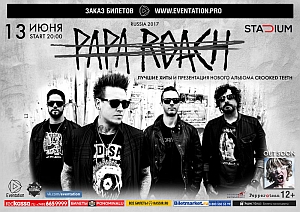 Stadium, Moscow, Russia
13th June 2017
Papa Roach

Legendary rock band PAPA ROACH returns to Russia with the presentation of the new album, 'Crooked Teeth', as well as the biggest hits in the history of the band! For almost 25 years, these famous rockers have been creating infectious, invigorating rock music that ignites the hearts of millions of music lovers around the world! Their first works were a mixture of nu-metal and rapcore and brought the band a real world fame. So, the real breakthrough was the second album of the band, 'Infest', which got a platinum status three times, took the leading position in the American Billboard 200 chart and in the first week after the release was sold out in the amount of 30,000 copies!
For the years of their existence, PAPA ROACH constantly experimented with the sound, added orchestral instruments, left aside alternatives and eventually became the legends of alt-metal. At the moment, behind the back of the band there are eight studio albums, joint tours with Five Finger Death Punch, Sixx: A.M, Nickelback, Mötley Crüe, Skillet and other leaders of the genre, as well as a Grammy Award nomination.
Now PAPA ROACH is preparing for release the 9th studio album, 'Crooked Teeth', the release of which is scheduled for May 19, 2017. In early March, the new song 'Help' topped the Active Rock chart and became the most actively added song in the playlists. Now it is on the 6th line in the charts of rock radio stations, and the number of its auditions has exceeded four million. The previous new track, 'Crooked Teeth', which was released in late 2016, impressed listeners with a combination of the "808 bass drop" effect and metal breakdown.
This summer the favorites of the public PAPA ROACH will please you with excellent good hits, and also will perform songs from the long-awaited new album 'Crooked Teeth'!
Additional Concert Info

Doors: 7:00 pm
Starts: 8:00 pm
Tickets: can be bought for 2,000 rub at https://goo.gl/wbLuXI
Info Event: https://www.facebook.com/events/427874460881922
More on
Papa Roach