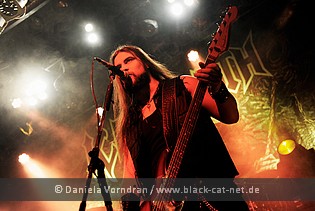 Kulturfabrik, Esch sur Alzette, Luxembourg
13th July 2017
Iced Earth, Elysian Gates, Sleepers' Guilt

ICED EARTH is an American metal band with trash, power, progressive and speed metal influences. The band was founded in 1985 under the name
PURGATORY
by guitarist and main songwriter Jon Schaffer and drummer Greg Seymour. They have already released eleven studio albums and three live albums. Their latest album 'Plagues of Babylon' reached position five on the German Media Control Charts, which is the band's highest chart position in their entire career. In Luxembourg, they will promote their upcoming album Incorruptible which will be released on 16th June 2017.
As support bands, there will be 2 local bands which are well known in the Luxembourgish metal scene: ELYSIAN GATES and SLEEPERS' GUILT. ELYSIAN GATES is a symphonic metal band formed in 2010. Their first album 'Destination Unknown' came out in 2013. ELYSIAN GATES is Noémie (vocals, violins), Sue (guitar), Guy (guitar), Kim (bass), Thierry (keyboard) and Chris (drums). SLEEPERS' GUILT is a melodic death metal band founded in 2011 by Max (drums), Chris (guitar) and Phil (bass) who already had played together in the past. In 2016, they released their first double album 'Kilesa', which is definitely worth listening to. They already supported big bands like
AMON AMARTH
. SLEEPERS' GUILT is Schaul (vocals), Chris (guitar), Jeff (guitar), Phil (bass) and Max (drums).
Doesn't it sound like a promising evening full of power, energy, good music and head banging?
Additional Concert Info
Doors: 19:30
Start: 20:00
Tickets:26€ + presale fee
Info & Tickets: http://kulturfabrik.lu/fr/programmation/details/event/iced-earth-usa/
Facebook Event: https://www.facebook.com/events/690386687805446/
More on
Iced Earth
,
Elysian Gates
and
Sleepers' Guilt