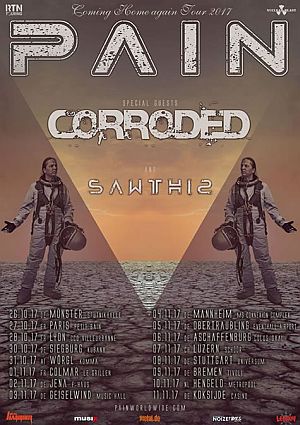 Sputnikhalle, Münster, Germany
26th October 2017
Pain "Coming Home Tour 2017 Part II" with Supports Corroded & Sawthis


"That's me, designed to piss you offˮ
- when Peter Tägtgren is ascending from the depths of his legendary Abyss Studio to take the microphone, a little musical revolution is inevitable. Because what else would you expect from HYPOCRISY's death metal veteran, who not only plays industrial metal with PAIN, but is considered to be one of the most influential producers in the metal scene (DIMMU BORGIR, CHILDREN OF BODOM, SABATON etc.), and just recently launched his controversial project LINDEMANN in partnership with RAMMSTEIN's front man Till.
Since the beginning of his career in the early 90s, the Swedish all-rounder has enjoyed diving into the extreme and has grown to be an untamable force. But this is exactly what makes him so fascinating. Taboos, creative stagnation or genre boundaries have never existed in the world of the 46-year-old mastermind. And, of course, Peter Tägtgren wandered the same unexplored paths when the time came to forge »Coming Home«, the 8th studio release of the industrial institution PAIN. However, the path was long and winding and therefore, the writing process for the follow-up of 2011's 'You Only Live Twice' wasn't all fun and games - but Peter Tägtgren is well prepared for the fight:
"Sometimes you pull your hair out and lay sleepless all night long, because you can't figure out this one chorus or don't know how to finish a certain song"
, admits singer and axe man Peter.
"That's just me: When I dive into it, there's no ending in sight. It's a self-destructive mechanism. But I want perfection - or I don't want it at all".
Now, the band if back in Germany again an also come to Münster, supported by CORRODED & SAWTHIS.
Additional Concert Info

Doors: 19:00
Starts: 20:00
Tickets: are available for 25.30 € (plus fees)
HERE
and via
TICKETMASTER
Info: http://carlos-konzerte.de
Facebook Event: https://www.facebook.com/events/271265396613055
More on
Pain
,
Corroded
&
Sawthis