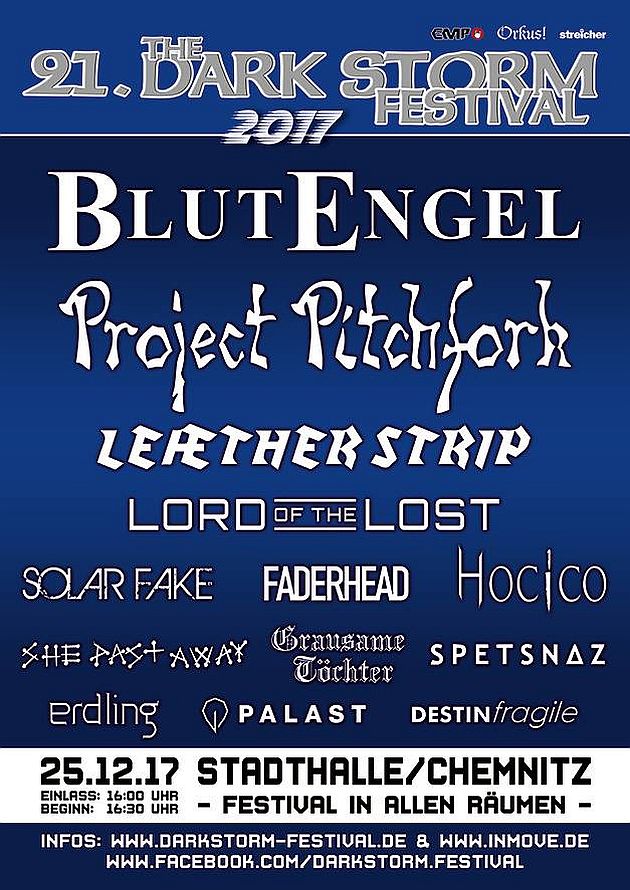 Stadthalle, Chemnitz, Germany
25th December 2017
Dark Storm Festival 2017 with Blutengel, Faderhead, Hocico, Leather Strip, Lord of the Lost, Project Pitchfork, She Past Away, Solar Fake and many more

The Dark Storm Festival will take place for the 21st time - as always offering a wonderful opportunity to escape the familial Christmas activities! This year, the audience will be offered a mixture of Electro, Aggrotech, Dark Rock, Alternative and Post Punk.
German bands BLUTENGEL and PROJECT PITCHFORK will appear as headliners. A special highlight will surely be LORD OF THE LOST's performance, who always deliver live and surprise the fans with some great new outfits. The ever-growing fan base of SOLAR FAKE will be delighted as Sven and André are sure to deliver some songs off the upcoming album as a Christmas present to Chemnitz. At the end of September the line-up was completed with SHE PAST AWAY, the wonderful Post Punk duo from Turkey, whose popularity in Germany is growing strongly. Other bands featuring include HOCICO, LEATHER STRIP and FADERHEAD.
It is really pleasant experience to enjoy the festival atmosphere in the winter. You will have the choice between standing places and seats in the Stadthalle Chemnitz. Please visit the official festival homepage, which will soon be showing the running order.
Running Order
16:00 - Doors
16:30 - 17:00 Palast (HEADQUARTER)
17:10 - 17:50 Destin Fragile (SECOND FLOOR)
17:20 - 17:55 Erdling (HEADQUARTER)
18:10 - 19:00 Faderhead (SECOND FLOOR)
18:15 - 18:55 She Past Away (HEADQUARTER)
19:15 - 19:55 Grausame Töchter (HEADQUARTER)
19:20 - 20:10 Spetsnaz (SECOND FLOOR)
20:15 - 20:55 Hocico (HEADQUARTER)
20:45 - 21:45 Solar Fake (SECOND FLOOR)
21:15 - 21:55 Lord Of The Lost (HEADQUARTER)
23:20 - 00:20 Leaetherstrip (SECOND FLOOR)
22:15 - 23:20 Project Pitchfork (HEADQUARTER)
23:45 - 00:50 Blutengel (HEADQUARTER)
Additional Festival Info

Doors: 4:00 pm
Starts: 4:30 pm
Tickets: can be bought for 42.95 € via
EVENTIM
,
TICKETMASTER
and at http://www.city-ticket.de/extern/festivals/dark-storm-festival
Info Event: https://www.facebook.com/events/830966893721837
Festival Website: http://www.darkstorm-festival.de