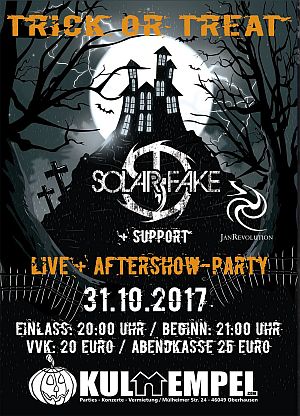 Kulttempel, Oberhausen, Germany
31st October 2017
JanRevolution, Solar Fake

Trick or treat! For all electro maniacs the place to be this Halloween is the Kulttempel in Oberhausen. Why? Cause electro favorites SOLAR FAKE are going to be back at the culty music house! Vocalist and mastermind Sven Friedrich (DREADFUL SHADOWS, ZERAPHINE) and his support at the keys André Feller (DREADFUL SHADOWS, HERZFEIND, THE SHINING BRIGHT) had kicked off their last "Manic Episodes Tour" in 2016 at the cool venue and of course they are more than welcome to raise the roof once again.
Founded in 2007 the addictive act has a total of four captivating long-play albums filled with moving ballads and smashing hits to their name. The duo is widely celebrated for creating diverse floor filling club hits and melancholic anthems combining Electro, Synth Pop, EBM, Industrial and Wave sounds with outstanding vocals. Needless to say that SOLAR FAKE have also proved to be a stellar live act over the years. Their international fans always have a blast at the intimate club shows and the act easily managed to convince also a larger crowd at festivals such as M'era Luna, Amphi and many more. It's going to be quite a special show on October 31 as Sven and André gave their ever growing fan-base the chance to pick five-teen songs for their Halloween setlist. One could vote for one's top 5 over here: https://beta.doodle.com/poll/w93ccrgwn8v66nuk.Moreover, SOLAR FAKE are currently working on new material and promise to give us a taste. How exciting is this?! What a treat for all SOLAR fans indeed.
Supporting act JANREVOLUTION will get the party started presenting their emotional "Electro-Power-Future-Rock-Pop" songs. The revolutionists Jan and Peter create music since 1998 and know how to carry a crowd. And after the live shows the electro All Hollow's fest is far from being over. An after-show party is also on the program. So, dress up or come as you are to celebrate the best holiday of the year together with JANREVOLUTION and SOLAR FAKE at the Kulttempel! We can't wait.
Additional Concert Info

Doors: 8:00pm
Start: 9:00pm
Tickets: Order your ticket for 20.00€ (plus 2.00€ fees) at https://kulttempel-tickets.de/order.html?order=226 (tickets at the door: 25.00€)
Facebook Event: https://www.facebook.com/events/114990875795432
Info SOLAR FAKE: www.solarfake.de / https://www.facebook.com/SolarFake
Info JanRevolution: https://www.facebook.com/JanRevolution.Music/
More on
Solar Fake
and
JanRevolution