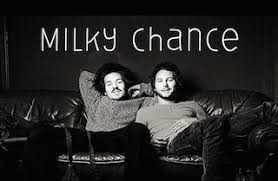 Rockhal, Esch sur Alzette, Luxembourg
23rd November 2017
Milky Chance

MILKY CHANCE is a German folk group formed 2012 in Kassel, Germany. It consists of lead vocalist and guitarist Clemens Rehbein and DJ and producer Philipp Dausch. The Kassel duo met in an "Advanced Music Course" at the start of eleventh grade, and they creatively gelled right off the bat.
Their first single 'Stolen Dance' was released in 2013 and has reached number one in Austria, France, Belgium, Switzerland, Poland, Czech Republic and Hungary. About the song, Clemens says,
"It's less of a story than a feeling. The feeling in the song refers to a certain moment I wanted to hold on to. It's the sentiment you experience when you miss somebody you really like and just can't spend time with that person. You're sad the other person isn't there, but you're also happy for the beautiful moments you've spent together."
Their debut album 'Sadnecessary' which was recorded in a tiny studio in the quiet house Clemens grew up in. It was released in October 2013 and was also a huge success.
Now in 2017, the second studio album 'Blossom' was released. And that's why the duo from Kassel makes a Europe Tour. On the 23rd of November, they will present their album 'Blossom' in Luxembourg but there will definitely be older songs like 'Down by the River' and the well-known 'Stolen Dance'.
Additional Concert Info

Doors: 20:00
Start: 20:30
Tickets: 34€ + 3.40€ presale fee
Info & Tickets: http://www.rockhal.lu/agenda/rock-pop/show/detail/milky-chance-1/
Facebook Event: https://www.facebook.com/events/235761090231741/
More on
Milky Chance