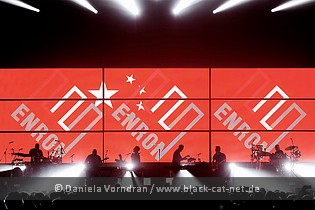 MASSIVE ATTACK
celebrates its 30th anniversary in 2018. Robert Del Naja and Daddy G founded the band in Bristol in 1988 - back then with Andrew Vowles - and soon afterwards invented their own music genre. Where MASSIVE ATTACK did not care about terms such as Trip Hop or Bristol Sound at all. However, what makes this band so special is their consistency: even today MASSIVE ATTACK concerts are not nostalgic events.
This may be due to the timeless quality of their songs, but also to MASSIVE ATTACK's good feeling for fresh collaborations and guest voices. On the last tour, they were accompanied by the YOUNG FATHERS, arguably the most exciting gospel-hip-hop-soul-pop band Scotland has to offer. The bands got along so well that they decided to go on tour together in 2018 again. In addition, every show by MASSIVE ATTACK is a political statement: Del Naja and Daddy G always have their songs accompanied by a lavish dramaturgy of light and word that consciously sets accents.
One may assume that this will not have changed in the summer of 2018, when MASSIVE ATTACK will finally be back for two shows in Germany:
28th June 2018 - Cologne, Palladium
29th June 2018 - Berlin, Zitadelle
General pre-sale starts on Friday, 8th December 2017, 10:00 Berlin time. Ticket price will be 42 euros plus charges. Tickets are available via tickets.de and
EVENTIM
. More info: www.massiveattack.co.uk.