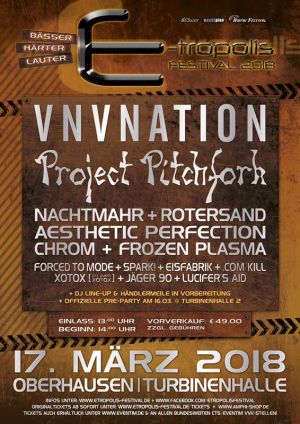 Turbinenhalle, Oberhausen, Germany
17th March 2018
E-Tropolis Festival 2018 with VNV Nation, Project Pitchfork, Nachtmahr, Rotersand, Aesthetic Perfection and many more

Rough on the shell, clamorous at the core – the E-Tropolis Festival continues! For the eighth time our machine warriors march into position again for a "BETTER-HARDER-LOUDER" festival extravaganza of the electronic kind. Enjoy the crackling and bristling of electric current and get injected with the finest highlights of DARK ELECTRO, EBM, SYNTHPOP and INDUSTRIAL – perfectly orchestrated on two stages, 17th March 2018 at Turbinenhalle Oberhausen.
It is already the fifth time that the E-Tropolis Festival will take place at the Turbinenhalle in Oberhausen after the festival moved from Berlin to the Ruhr valley in 2014. And again the line-up is a whoopee for everyone who loves electronic music from the dark side! Headliners are VNV NATION, guaranteeing a splendid end of the festival day. As always, lovers of several kinds of electronic music will find their favourite bands within the line-up:

So it's quite a line-up in a location which couldn't be more perfect for this kind of music. The Turbinenhalle is a former industrial building, a hydroelectric power plant for the Ruhr valley's past steel industry, to be more precise. Quite apt for a festival for EBM, Synth Pop and Industrial! The move from Berlin to Oberhausen was also a smart move in other regards, since the Ruhr area is one of Europe's largest urban agglomerations and a place which is a traditional stronghold of all things EBM, Industrial, Gothic and so on. Plus it's rather close to Belgium and the Netherlands and thanks to the many airports there it's just a short flight from most European countries. You should definitely get your tickets in advance! For more information check the links below!
Warm-up Parties

26.01.18 DE - Bonn | Das Sofa
27.01.18 DE - Dortmund | BEDO Studio
03.02.18 DE - Essen | Zeche Carl
03.02.18 DE - Dresden | Bunker/Straße-E
09.02.18 GR - Athen | Skull Bar
10.02.18 DE - Stuttgart | Paradox
16.02.18 DE - Frankfurt a. M. | Final Destination
17.02.18 DE - Kassel | Panoptikum
23.02.18 DE - Karlsruhe | Nachtwerk
23.02.18 DE - Berlin | Insomnia (Angel-in-Bondage)
23.02.18 DE - Hanover | Rockhouse
23.02.18 DE - Bremen | Tivoli
10.03.18 DE - Hanover | Wasserturm (Dark Tower Party)
E-Tropolis Pre-Party

For the second time, the official E-TROPOLIS PRE-PARTY will take place directly at Turbinenhalle 2. On Friday, 16th March, you are invited to let your body learn. From 10:00 pm you can party into the night, again with three excellent DJs who announced their participation. Masters of their craft, setting the tone for the main event with a variety of electronic tunes. This time those wizards are:
THOMAS RAINER (Nachtmahr)
KRISCHAN WESENBERG (Rotersand)
MSTH (ElectronicDanceArt)
For festival visitors showing their E-Tropolis Festival ticket at the entrance, admission to the pre-party is totally for free. If you only want to attend the pre-party, you can buy standalone party tickets at the doors from 10:00 pm on. The price is 8.00 € each. More info here: https://www.facebook.com/events/1229995010454497/
Additional Festival Information

Doors: 01:00 pm
Starts: 02.00 pm
Ticket fee: 54 euros + Charges (Pre- Sales)
Tickets can be bought at https://www.amphi-shop.de/article/809.html /
Eventim
Info: http://etropolis-festival.de / https://www.facebook.com/events/344036529331551/