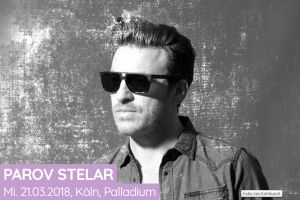 Palladium, Cologne, Germany
21st March 2018
Parov Stelar

PAROV STELAR has developed his art for his new album 'The Burning Spider'. Were until now Swing or Lindy Hop in their modernized version in the centre of the music, Marcus Füreder now goes back one to three steps in music history. With the vocals (and the harmonica and guitar) of legends such as LIGHTNIN HOPKINS and MUDDY WATERS, he dives deep into the blues, but retains the rhythmic and completely danceable frame.
Through this unusual combination Parov Stelar looks from a completely new perspective on the musical basis of the entire popular music, without which there would have been no Jazz, no Rock'n'Roll, no Indie Rock, no Punk, no Soul, Funk or Hip Hop as well as most of the electronic genres. Precisely because the Austrian does not put the Blues sounds into the usual context, the sound gets a very special effect.
Of course PAROV STELAR goes on tour again with his new tracks - if you can still speak of different tours because of his continuous concert activities. In March, STELAR returns to Germany with his band for four dates.
Additional Concert Info

Doors: 18:30
Start: 20:00
Tickets: are available for 37.75 Euros (pre-sale) plus charges from
Eventim
/
Ticketmaster
Info: http://prime-entertainment.de/index.php?id=34&eventid=4663
More on
Parov Stelar
Picture by Jan Kohlrusch