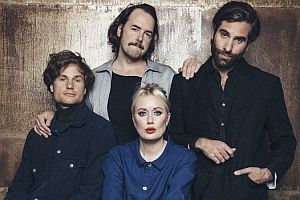 Sputnikhalle, Münster, Germany
19th April 2018
Shout out Louds

New label, great singles, an enthusiastically recorded album and lots of live dates. With 'Oh Oh', one of the greatest Swedish indie pop bands of all time made a comeback this spring. With the new material, the SHOUT OUT LOUDS return to their musical roots: warm, melancholic indie pop.
The band's last album, 'Optica', was released in 2013 and - like its predecessor 'Work' in 2010 - was able to place in the official German album charts. The musicians used the band break i.e. to start a family and to realize various solo and side projects. Singer Adam Olenius released a solo EP, keyboarder / singer Bebban Stenborg an album with her band ASTROPOL and bassist Ted Malmros recorded music with his duo A NIGHTHAWK. At some point, however, came the time to kick-start the SHOUT OUT LOUDS again.
Most of the new album was recorded in a small basement studio in Stockholm with producer Fredrik Swahn. He is a member of the band THE AMAZING and recently worked with French artist MELODY'S ECHO CHAMBER. On September 22nd, the long-awaited long-player 'Ease My Mind' was finally released, which was celebrated by the fans on the first part of the tour in October. In spring, the Swedes return to Germany for further performances.
Additional Concert Info

Doors: 19:00
Start: 20:00
Tickets: 24 euros plus charges (pre-sale) at the venue and via
EVENTIM
or 29.00 euros at the door
Info Bands: www.facebook.com/shoutoutlouds
Info: http://www.sputnikhalle.de/index.php/naechste-monate/1058-do-19-04-2018-do-19-04-shout-out-louds-se
More on
Shout out Louds