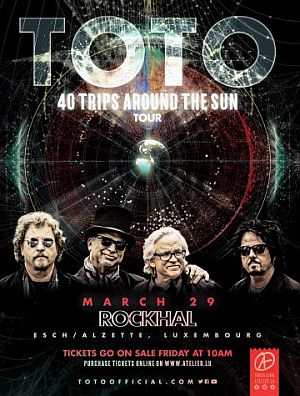 Rockhal, Esch sur Alzette, Luxembourg
29th March 2018
Toto – "40 Trips Around The Sun" Tour

TOTO is pleased to announce the second set of shows in support of the band's 40th anniversary beginning in 2018. The "40 Trips Around The Sun" tour will begin in February 2018 in Europe. The tour will be the band's most extensive run in years and will be a worldwide tour to celebrate the band's enduring career. Alongside the launch of the tour, TOTO along with Legacy Recordings have created a brand new Greatest Hits package, also titled: '40 Trips Around The Sun'. The album will feature brand new previously unreleased music alongside newly re-mastered classic tracks.
"This 40th Anniversary tour is going to be a special one for us and all of the fans that come out. On top of all that, it's really exciting to be working with Sony Music again. We've spent a lot of time this year working on new music and re-mastering the older tracks."
remarked Steve Lukather.
With close to 40 years together and literally thousands of credits, including the biggest selling album of all time: Michael Jackson's 'Thriller', and accolades to their names, TOTO remains one of the top selling touring and recording acts in the world. They are the benchmark by which many artists base their sound and production, and they continue to transcend the standards set by the entire music community, being simply synonymous with musical credibility. They are pop culture and are one of the few 70's bands that have endured the changing trends and styles to a career enjoy a multi-generational worldwide fan base.
Additional Concert Info
Doors: 19:00
Start: 21:00
Tickets: 47€ + fees standing; 59€ + fees reserved seating
Info: http://www.atelier.lu/Upcoming-Shows/TOTO
Facebook Event: https://www.facebook.com/events/1911180309142543/
More on
Toto