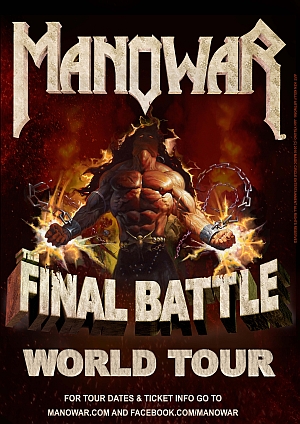 For almost four decades, MANOWAR have shared their unique, immortal anthems with powerful imagery and lyrics celebrating values such as honor, loyalty and friendship. MANOWAR were not only among the first metal bands to record with an orchestra, but are also known as the world's loudest band playing the longest shows. Who would expect less from a heavy band that signed their contract with their own blood? During their career the band has completed over 35 tours. On the "Final Battle World Tour" you can expect an over-two-hours show taking you through MANOWAR history of greatest hits. So come out to celebrate the unbreakable bond between the band and their followers and to say farewell! We all remember what vocalist Eric Adams has promised: "We have just one goal: To bring true metal and the greatest show on earth to the greatest fans in the world."
MANOWAR have confirmed Friday, April 5, 2019, as a replacement date for their shows scheduled for December 15 and 16, 2017 at the Porsche Arena in Stuttgart. The catch-up show now takes place in the Schleyer-Halle in Stuttgart. A venue with the capacity to greet all ticket holders of both original dates in one evening. All original tickets and ULTIMATE FAN EXPERIENCE upgrades of THE FINAL BATTLE shows, scheduled for December 15 and 16, 2017, will remain valid on Friday, April 5, 2019. "Together with our promoter Lars Berndt EVENTS, we were able to secure the Stuttgart Hanns-Martin-Schleyer-Halle - a place where MANOWAR has made history and will be re-written! Waiting for this show will be worthwhile!" said Joey DeMaio. But that's not all!
"Since the beginning of the tour, we have received countless requests for additional shows, from fans who could not attend the FINAL BATTLE Tour 2017, or from fans hungry for more immortal memories and the power of True Metal with their Brothers and Sisters Of Steel to share." explained Joey DeMaio. "Our German Manowarriors have been loyal to us from the start and they deserve another chance to say goodbye." In addition to the catch-up show for Stuttgart, MANOWAR have added four more dates to their final return to Germany:
29.03.2019 – Jahrhunderthalle – Frankfurt
30.03.2019 – Westfalenhalle 1 – Dortmund
03.04.2019 – Velodrom – Berlin
05.04.2019 – Hanns-Martin-Schleyer-Halle – Stuttgart
06.04.2019 – Zenith – Munich
Tickets:
https://goo.gl/bfepCF
The FINAL BATTLE World Tour 2019 will break new ground with the slogan FAN FAVORITES ONLY: Each show will differ in song selection from the other shows and will be based on a vote of the fans who have their five favorite albums and their favorite songs from each of these albums may choose. This gives every fan the chance to see and hear these latest shows and actively participate in them. A truly unique farewell gift to the best fans in the world.
But that's still not all! In the run-up to a sold-out concert in Munich, Joey DeMaio surprised with a sensational and unexpected announcement for every real MANOWAR fan! For the first time, MANOWAR will open their secret archives and tell their fans the official story of MANOWAR, from its inception to today! Life on tour and in the studio; Fame and Challenges, Secrets and Triumphs - Joey DeMaio unveils "The Blood of the Kings" chapter by chapter, live on stage, in a captivating one-man multimedia show. "The Blood of the Kings" Spoken Word Tour is a rare, personal insight into the extraordinary career of one of the most legendary, enduring heavy metal bands. Here are the dates:
01.11.2019 – Munich – Technikum
02.11.2019 – Nuremberg – Kleine Meistersingerhalle
03.11.2019 – Stuttgart – Liederhalle (Silchersaal)
04.11.2019 – Frankfurt – Batschkapp
05.11.2019 – Düsseldorf – Savoy Theater
07.11.2019 – Bochum – Christuskirche
08.11.2019 – Hamburg – Kleine Laeiszhalle
09.11.2019 – Berlin – Tempodrom (Kleine Arena)
10.11.2019 – Leipzig – Haus Leipzig
Tickets:
https://goo.gl/DG4ckw
More on
Manowar