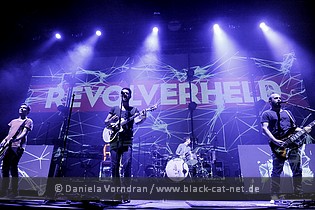 It's been an unbelievable thirteen years since REVOLVERHELD released their debut album - the beginning of a band career that is hard to find nowadays, especially in Germany. Since then, four studio albums have been released, all went into the top ten. Overall, they had an impressive fifteen singles on the charts - of which only three of their last studio album, 'Immer in Bewegung', directly entered the top ten. The most exciting moment of the day was probably marked by the album 'MTV Unplugged in drei Akten', whose eponymous release catapulted Johannes Strate, Kristoffer Hünecke, Niels Kristian Hansen and Jakob Sinn to their highest ever position in the album charts. The subsequent tour excited over 230,000 enthusiastic spectators. After that, the band would have been granted the announced one year break. At least that was the plan…
"After a month of relaxing, I had a great desire to make music again," Johannes summarizes. "We had not worked together for five years on new songs but had experienced so many things together, it was really time to get creative again and all to let that out." And so Johannes and Kris, the two songwriters of the band, played each other the first new songs at the beginning of the year and discovered that something new and unfamiliar is developing. Initially, Johannes and Kris worked in places such as Amsterdam or St.Peter-Ording and were inspired by stories, melodies and ideas. With all these ideas, the full band drove with their longtime friend and producer Philipp Steinke to the beautiful island of Föhr where they developed the new REVOLVERHELD sound for 'Zimmer mit Blick'.
The first radio hit single 'Immer noch fühlen' is a song reminiscent of the moments that have been defining and always worn with you. "Not as pure nostalgia, but as the celebration of the moment in the here and now." says Johannes. "Maybe this can be a good idea to reorient his inner compass in confused times like this." The most forming moments of REVOLVERHELD was the time of their first gigs - when everything began that opens up into 'Zimmer mit Blick' - an album that is so incredibly laid back and probably due to the many years of experience and genuine friendship of the four musicians The first single sounds even danceable this time. This shows the new and well-known spirit of a band that simply loves to make music for themselves and the fans out there.
Therefore REVOLVERHELD go back to where it all started along with the release of 'Zimmer mit Blick'… into the smallest clubs of the republic where they will play ten exclusive shows - for the first time, tickets were only available on the band's own Ticketshop. These shows were sold out in only 30 minutes completely and who got one of the coveted tickets, was lucky. But those who know the band know that the boys are not content with ten small club concerts. And so now all the others who have not received any tickets for the club tour will enjoy different concerts in big arenas.
Tickets from 35 EUR plus fees will be available exclusively from Friday, April 13, 2018, 12:00 in the band's pre-sale at revolverheld.de. From 10:00 on Wednesday, April 18, 2018, also in the Eventim pre-sale and from Friday, April 20, 2018, 10:00 also at all known CTS ticket offices as well as on the hotline +49 (0)1806 - 853653 (.20 € / call from landline, mobile max 0.60 € / call), on fkpscorpio.com and eventim.de.
Tour dates

14.03.2019 Emden - Nordseehalle
15.03.2019 Hanover - TUI Arena
16.03.2019 Hamburg - Barclaycard Arena
18.03.2019 Bremen - ÖVB-Arena
19.03.2019 Leipzig - Arena
20.03.2019 Frankfurt - Festhalle
22.03.2019 Stuttgart - Schleyer-Halle
23.03.2019 Nuremberg - Arena Nürnberger Versicherung
24.03.2019 Munich - Olympiahalle
25.03.2019 A - Vienna - Stadthalle
27.03.2019 Cologne - LANXESS arena
29.03.2019 Oberhausen - König-Pilsener-ARENA
30.03.2019 Berlin - Mercedes-Benz Arena
More on
Revolverheld