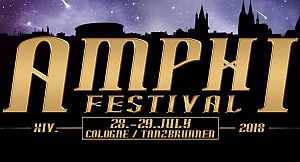 Tanzbrunnen, Cologne, Germany
28th & 29th July 2018
Amphi Festival 2018 with And One, ASP, OMD, Oomph!, Midge Ure, Solar Fake, Aesthetic Perfection, Joachim Witt, Unzucht, Assemblage23, Grendel, In the Nursery, She Past Away, Heldmaschine, Whispers in the Shadows, Rroyce, Scheuber, and many more

On July 28th and 29th Cologne's Tanzbrunnen will open its doors once again welcoming 12,000 Amphi fans from all around to celebrate with 42 bands at the shores of the river Rhine. The two-day festival lures dark music lovers with a superb and diverse, international line-up ranging from Synth Pop to Industrial and Post Punk to Dark Rock, presenting traditional, iconic artistes next to modern acts.
Amphi 2018 will be headlined by AND ONE next to German Gothic Novel Rockers ASP, who have played Amphi eight years ago for the last time. One can look forward to an entertaining Synth Pop party with the former and a fiery blast with the latter. With the new wave pioneers ORCHESTRAL MANOUVRES IN THE DARK (OMD) and the extraordinary MIDGE URE (VISAGE, THIN LIZZY, ULTRAVOX) Amphi celebrates the 80ies with us. Thinking of Industrial Pop super group AESTHETIC PERFECTION, popular electro favorites SOLAR FAKE, the dark rockers UNZUCHT, or the one and only Mr. JOACHIM WITT, fans will also be happy to welcome back some great acts that have already graced the Amphi stages in recent years.
Festival Line-Up (in alphabetical order)

Saturday, July 28:

AESTHETIC PERFECTION, ASP, ASSEMBLAGE 23, A PROJECTION, CENTHRON, FUNKER VOGT, FUTURE LIED TO US, INTENT:OUTTAKE, KIEW, LA SCALTRA, LEBANON HANOVER, MIDGE URE, MONO INC., OMD, SHE PAST AWAY, [:SITD:], SOVIET SOVIET, THE CREEPSHOW, UNZUCHT, WHISPERS IN THE SHADOW, [X]-RX
Sunday, July 29:

AGONOIZE, AND ONE, CORDE OBLIQUE, ES23, GIRLS UNDER GLASS, GOETHES ERBEN, GRAUSAME TÖCHTER, GRENDEL, HELDMASCHINE, IN THE NURSERY, JOACHIM WITT, MAD SIN, NEUROTICFISH, OOMPH!, PERSEPHONE, PRIEST, QNTAL, RROYCE, SCHEUBER, SOLAR FAKE, SYNTHATTACK
The final running order is not set yet and will be announced in time before the festival.

On top of the characteristic AMPHI vibes at the Tanzbrunnen with its stages right at the river with the famous Gothic Cologne Cathedral in sight on the other side, there is of course the popular beach club "KM 689" for the sun worshippers and also the more shade-giving mead lounge at the fountain. Another hot spot one also don't want to miss is the gothic-market for some shopping and the signing sessions to meet and greet your favorite artists.
The opening event "Call the Ships to Port" on Friday, July 27th, will get this year's AMPHI started and is already sold out by now. The acts EISFAKBRIK, SUICIDE COMMANDO, and COVENANT will rock the AMPHI boat ride on the MS RheinEnergie. If you couldn't grab a ticket, there is still the official pre-party lead by high-class DJs: Sven Friedrich (SOLAR FAKE), Daniel Graves (AESTHETIC PERFECTION), Der Schulz (UNZUCHT) and DJ MSTH (ELECTRONICDANCEART) will kick off our Friday night at 10pm raising the roof of the Theater stage. Tickets for the pre-party are 6.60€ (plus fees) and are exclusively available at Amphi Shop (www.amphi-shop.de). Furthermore, tickets are available at all nationwide
CTS/EVENTIM
box-offices, online at www.eventim.de, www.oeticket.com, www.ticketcorner.ch and as PRINT@HOME edition. As always, the AMPHI festival will round off the musical extravaganza with more after-show parties.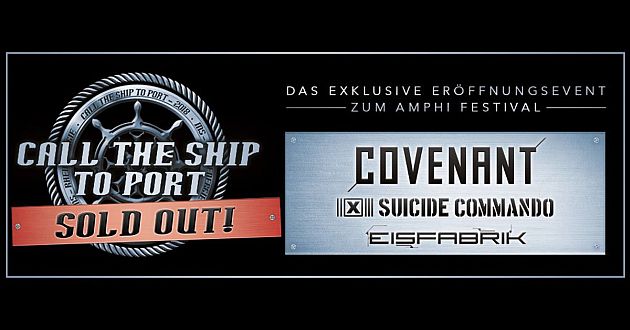 Real soon now AMPHI 2018 will clap on all sail! Till then, you can shorten the time by checking out the festival's Spotify playlist and shaking a leg at one of the warm up parties starting end of May.
Warm Up Parties

May 20 – Das Sofa, Bonn, Germany
May 26 – Kultkeller, Duisburg, Germany
May 26 – Hans-Bunte- Areal, Freiburg, Germany
May 26 – Bunker/Straße-E, Dresden, Germany
May 30 – The Inner Circle, Mühlheim a.d. Ruhr, Germany
June 1 – Kulttempel, Oberhausen, Germany
June 2 – Zeche Carl, Essen, Germany
June 2 – Till Dawn, Marburg, Germany
June 8 – Skullbar Club, Athens, Greece
June 9 – Nachtwerk, Karlsruhe, Germany
June 9 – Paradox, Ludwigsburg, Germany
June 22 – Nuke Club, Berlin, Germany
June 23 – Panoptikum, Kassel, Germany
June 29 – Insomnia, Berlin, Germany
June 29 – Heines Deele, Stadthagen, Germany
June 30 – MTW, Offenbach a.M., Germany
July 14 – Schickeria, Dortmund, Germany
July 20 – Final Destination, Frankfurt a.M., Germany
Additional Festival Info

Doors: 10am (both days)
Starts: 11am (both days)
Festival Websites: www.amphi-festival.de / www.facebook.com/amphifestival
Tickets: Weekend tickets are available for 83.00€ (plus fees); one-day tickets for 59.50€ (plus fees); and pre-party tickets for 6.60€ (plus fees) at www.amphi-shop.de (worldwide shipping). All tickets are also available at all nationwide
CTS/EVENTIM
box-offices, online at www.eventim.de, www.oeticket.com, www.ticketcorner.ch and as PRINT@HOME edition.
Facebook Event Amphi Festival 2017: https://www.facebook.com/events/492946941052806
Facebook Event Call the Ship to Port: https://www.facebook.com/events/102695273756002
Facebook Event Official Pre-Party: https://www.facebook.com/events/797896443706551
Spotify Playlist: https://open.spotify.com/user/amphifestival/playlist/1EJvLG0PmBrfPigMsjq7le