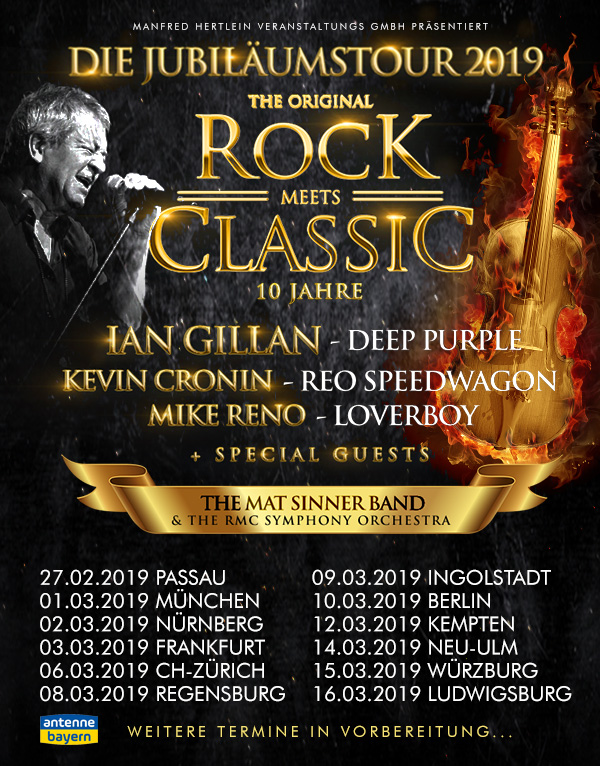 Just one month after the last acclaimed ROCK MEETS CLASSIC show 2018, Manfred Hertlein Events GmbH is happy to announce new tour dates for 2019! It is curtain up for the Jubilee season "10 years of ROCK MEETS CLASSIC" and the stage is set for fantastic Classic Rock legends, who will once again inspire tens of thousands of visitors in Germany and Switzerland with their world hits in February and March 2019. RMC proudly presents: Ian Gillan (Deep Purple), Kevin Cronin (REO Speedwagon), Mike Reno (Loverboy), and exciting special guests. Innumerable fans of rock and classical music fused together, can look forward to megahits of rock history like 'Smoke on the Water' (Deep Purple), 'Keep On Loving You', or 'Working for the Weekend' (Loverboy)! The RMC Anniversary Tour with the greatest stars in rock history - as always accompanied by the fabulous MAT SINNER BAND and the great RMC SYMPHONY ORCHESTRA conducted by Bernhard Wünsch - will perform on February 27, 2019 in Passau (Dreiländerhalle).
IAN GILLAN from DEEP PURPLE

ROCK MEETS CLASSIC celebrates its 10th anniversary with IAN GILLAN! After his acclaimed performances with RMC in 2015 and to the great joy of all RMC and DEEP PURPLE fans, the greatest Rock singer of all time will be live again at the big RMC anniversary. The 72-year-old superstar is in the final stretch of the current farewell tour with DEEP PURPLE, and the 2019 Rock Meets Classic shows may be among the last in which we see Ian Gillan. What songs the audience can look forward to is not yet clear. However, Gillan can draw on a repertoire that is just so full of all the great, ground-breaking classics of Rock: from 'Highway Star', 'Black Night' and 'Speed King' to 'Perfect Strangers' and 'Knockin' At Your Backdoor' to the current # 1 album 'inFinite' - not to mention the inevitable mega-hit 'Smoke On The Water'.
KEVIN CRONIN from REO SPEEDWAGON

Kevin Cronin has been the unmistakable voice of the US band REO SPEEDWAGON for over 40 years and author / co-author of some of the greatest songs in rock history. 'Keep On Loving You' (1981) from the 'Hi Infidelity' album, which won 10-platinum (sold over 10 million copies) in the US alone, and 'Can't Fight This Feeling' (1985) which stormed the US Billboard charts. The 66-year-old Rock star from Chicago, Illinois is visiting Rock Meets Classic for the first time in the spring of 2019 and will not only have his legendary 1952 Fender Telecaster in the luggage but many more famous hits from REO SPEEDWAGON such as 'Take It On The Run' and 'Don't Let Him Go'.
MIKE RENO of LOVERBOY

Mike Reno (63) is the singer and co-founder of the successful Canadian Hard Rock band LOVERBOY, which, since its founding in 1980, has survived until today almost in the original line-up. The massive success of radio anthems such as their first single 'Turn Me Loose' (1980) and 'Working For The Weekend' (1981) led to LOVERBOY often (mistakenly) considered as a 90s band. The fact is that the band was able to achieve great results right from the beginning of their career due to their high hit density. Because of the consistency and quality of their life's work, LOVERBOY were included in the "Canadian Music Hall of Fame" in 2009. They have been rarely seen live in Germany and so fans of Rock Meets Classic can look forward to the performances of Mike Reno and the big hits of LOVERBOY. These include the movie song 'Heaven In Your Eyes', which the band contributed to the soundtrack of the mega-blockbuster 'Top Gun' (1986).
RMC Tour Dates 2019

27.02.2019 Passau - Dreiländerhalle
01.03.2019 Munich - Olympiahalle
02.03.2019 Nuremberg - Arena
03.03.2019 Frankfurt - Jahrhunderthalle
06.03.2019 Zurich (CH) - Hallenstadion
08.03.2019 Regensburg - Donau-Arena
09.03.2019 Ingolstadt - Saturn-Arena
10.03.2019 Berlin - Tempodrom
12.03.2019 Kempten - bigBox
14.03.2019 Neu-Ulm - Ratiopharm arena
15.03.2019 Würzburg - S.Oliver-Arena
16.03.2019 Ludwigsburg - MHP Arena
Tickets for the ROCK MEETS CLASSIC Anniversary Tour 2019 will be available from June 2018 at all known ticket outlets like
EVENTIM
.