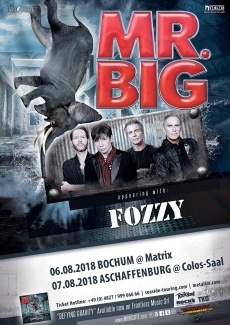 Matrix, Bochum, Germany
6th August 2018
Mr. Big & Fozzy

"OK, we're rolling." And with those three declarative words - as spoken by producer Kevin Elson right after the music kicks in on 'Open Your Eyes,' an instant callback to the beginning of 'Addicted to That Rush,' the hard-charging lead track on the band's self-titled 1989 debut - MR. BIG plants the flag between past, present, and future with 'Defying Gravity', the band's ninth original studio album that was released in July 2017.
'Defying Gravity', recorded in just six days at Ocean Studios in Burbank, California, reunites MR. BIG with the aforementioned noted producer Kevin Elson (JOURNEY, EUROPE, LYNYRD SKYNYRD), who's back behind the boards for the first time since helming the band's first four albums. 'Defying Gravity' deftly showcases that patented MR. BIG blend of crunch and melody, from the freight-train ride of the aforementioned opening cut 'Open Your Eyes' to the harmony-laden wonderment of 'Damn I'm in Love Again' to the grateful/ wistful nostalgia of '1992' (recalling the days when the band was flying high atop the singles charts with their international #1 smash 'To Be With You') to the barnburning slide-blues closing track, 'Be Kind.' Overall, 'Defying Gravity' is prime evidence that the only thing MR. BIG remains tethered to is their ongoing pursuit of achieving creative excellence.
MR. BIG's keen combination of their virtuosic nature with a DNA-infused sense of melody continues to enable listeners the ability to sing along to every word they hear. Not a lot of acts can do that as deftly as MR. BIG does, and 'Defying Gravity' finds this still-hungry band collectively leaning into it to bump ahead their music into new stratospheres. Climb aboard.
Additional Concert Info

Doors: 19:00
Start: 20:00
Tickets: are available for 39.40 Euros plus charges from
Eventim
Info: http://matrix-bochum.de/details/mr-big.html
More on
Mr. Big
and
Fozzy
Source: 2017 Artist Bio by Mike Mettler