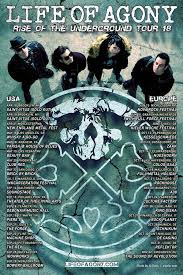 zakk, Düsseldorf, Germany
13th October 2018
Life Of Agony - "Rise of the Underground" Tour 2018 - Special Guests: Billybio, All Hail The Yeti

Oh boy, it seems legends never die. There was a time when New York Hardcore was receiving a fresh blood infusion with bands like BIOHAZARD, TYPE O NEGATIVE, and PRO-PAIN. That was back in the beginning of the 90ies, during which LIFE OF AGONY released their ground-breaking debut album 'River runs Red', which catapulted them into the music scene.
The follow-up 'Ugly' two years later was also well-received. However, the band members seemed to have lost their sense of cohesion, and the band went into a five-year hiatus. A first reunion ran out of steam, as the release of a new record was torpedoed by the label's decision to include some sort of spyware, anti-piracy software, and all records had to be recalled after a lawsuit ruled this to be illegal. So the band disbanded once again in 2012. In the meantime, singer Keith Caputo underwent a gender transition, and became Mina.
In 2014 they brought the band back together, recorded their fifth studio album titled 'A place where there's no more pain', and resumed touring. Their appearance on the 2017 Ozzfest in San Bernardino confirmed that they by no means have lost any of their mojo, and that songs such as 'Through and Through', 'This time', or 'Let's Pretend' have stood the test of time. All in all, it is a wonderful opportunity to see this legendary band in an extremely intimate venue, especially as they have brought ex-BIOHAZARD's Billy Graziedei's newest venture BILLYBIO with them as special guest.
Additional Concert Info

Doors: 19:00
Start: 19:30
Tickets: are currently available from
Eventim
starting at EUR 35.85
More information: https://www.zakk.de/event-detail?event=7195
More on
Life Of Agony
,
All Hail The Yeti