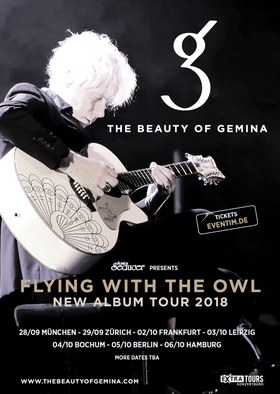 Musik & Frieden, Berlin, Germany
5th October 2018
The Beauty Of Gemina - "Flying With The Owl" Tour 2018

THE BEAUTY OF GEMINA is an outstanding legendary band from Switzerland. Michael Sele and his band colleagues create dark landscapes and music full of melancholy. Their rock shows are guaranteed to let their visitors escape in faraway dark areas of their mind and existence, but even more are their legendary acoustic and ensemble shows.
The new album 'Flying With The Owl' is going to be released on 10th of October 2018 and to celebrate it, THE BEAUTY OF GEMINA are going on tour in September and October 2018. Again they add some talented musicians to their set from Argentina, France and Iceland to complete their ensemble that is going to make the dark and cold autumn nights bittersweet for us.
With THE BEAUTY OF GEMINA being known for their sound inspired by human mind's darkness, timeless elegance, a hint of country-jazz and the perfect interaction of Rock and Classic instruments with Michael Sele's voice full of melancholy and magic, we all can be very excited for the new album. The first single, 'Ghosts', recently released on 17th of August, confirms that there are going to be virtuous and melancholic nights to look for.
Additional Concert Info

Doors: 19:00
Start: 20:00
Tickets: can be bought from 28.20 € + Charges (Pre-Sale) via
EVENTIM
Info: https://musikundfrieden.de/events/the-beauty-of-gemina/ http://www.thebeautyofgemina.com
More on
The Beauty Of Gemina