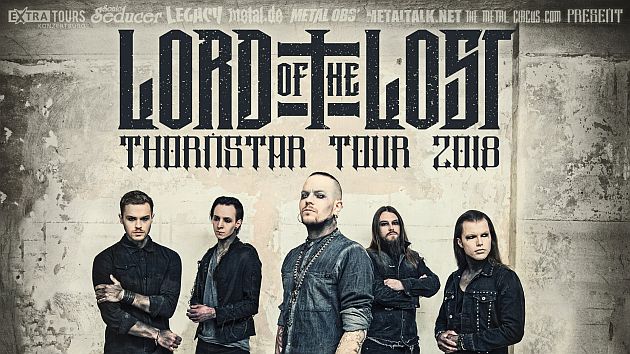 Markthalle, Hamburg, Germany
27th October 2018
Lord Of The Lost - "Thornstar Tour" 2018 - Support: Scarlet Dorn, Superloader

It is time to celebrate LORD OF THE LOST and their newest work, 'Thornstar', in their home town with a bang! The rise of LORD OF THE LOST is incredibly fascinating. Remembering small shows and opening gigs at festivals just a few years ago, the band took the hearts of their fans by storm - never forgetting to give the critics new stuff to discuss about. But LORD OF THE LOST always make huge efforts to interact with their fans and offer them something special, like they did again with pre-listening fan events three weeks before release of 'Thornstar' including a very intimate acoustic set in the production studio in Hamburg.
The newest work, 'Thornstar', is an epic piece of music with a big mythical story behind. Many of the songs have a spherical sound which makes them sound bombastic and powerful. The music video for the second single 'Morgana' reached over 1 million views on YouTube in just about two months. While the first CD presents a concept album, the second part of 'Thornstar' features all the songs that did not fit that well to the story but still needed to be heard. And gosh, this second part is not less fantastic than the first one. Also sound-wise LORD OF THE LOST know how to surprise (remember 'La Bomba'), so this time they collaborated with Dero Goi from OOMPH! who is joining Chris Harms for the vocals on 'Abracadabra'. Experimental, loud, dirty and just not too serious. That's how we know LORD OF THE LOST.
The upcoming tour will be the longest one so far, also including headliner shows abroad, but this night in Hamburg with the "local guys" will be something special as it always is.
Additional Concert Info

Doors: 19:00
Start: 20:00
Tickets can be bought for € 29.50 plus charges (pre-sale) via
EVENTIM
Info: https://markthalle-hamburg.de/konzerte/lord-of-the-lost-thornstar-tour-2018/ http://lordofthelost.extratix.de/shop_band.php?id=101&kat=bands / http://lordofthelost.de/
More on
Lord of the Lost
and
Scarlet Dorn