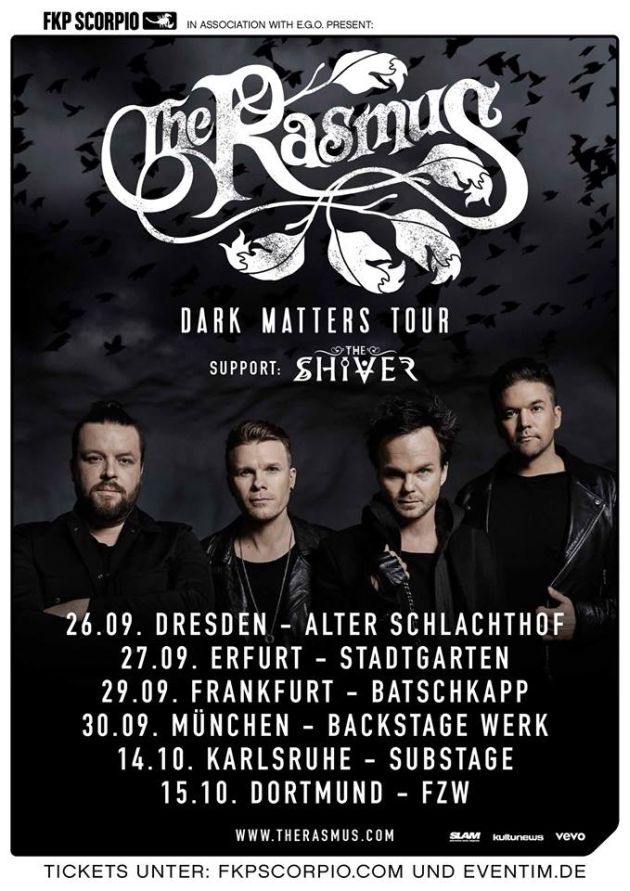 FZW, Dortmund, Germany
15th October 2018
The Rasmus, The Shiver, Overlaps

In October 2017, the new, long-time awaited album by THE RASMUS finally will was released. Finland's finest had spent five years on 'Dark Matters'. On the one hand of course to do what is most important to them: to play as many concerts as possible, on the other hand, the Scandinavians needed after the release of the last, self-titled album and several tours around the world just a break, not least to file their new sound.
Whereby the band around frontman Lauri Ylönen has changed anyway with each of their meanwhile nine studio albums. The gold and platinum-spoiled Alternative Rockers have always been in search of new musical influences and expressive possibilities, new sound possibilities and combinations of styles that are always held together by Ylönen's distinctive and absolutely recognizable voice. This has not changed with DARK MATTER. Just how strong THE RASMUS is on the stage, they have just proved again on the first part of their tour. Already on the opener 'Fff-Falling' from the album 'Into' it seemed like time stood still, and also the second track 'Guilty' of the successful album 'Dead Letters' was shown by Ylönen and his fellow guitarist Pauli Rantasalmi, bassist Eero Heinonen and drummer Aki Hakala in absolute high form.
In the set, old hits and new songs alternated perfectly to end the concert with the signifying hit 'In The Shadows' rushing. Or as konzert-nerd.de summarized in conclusion about the Cologne concert: "You can still do it!" No wonder, with their huge repertoire of bomb songs. There is even more to hear from, as THE RASMUS have just confirmed the second part of their successful sold-out tour: this fall, the Finns will be coming to Germany for six more shows.
Additional Concert Info

Doors: 19:00
Start: 20:00
Tickets: Tickets are available at the FZW, at all pre-sale points and in the FZW online shop. The ticket shop is open Mondays to Fridays from 11:00 am to 5:00 pm and is located on the back of the FZW opposite the main entrance to the office windows. Only cash payment possible. Pre-sale price with FZW: 29.45 €. Tickets can also be bought via
Eventim
More Info: https://www.fzw.de/programm/detail/15.10.2018/The+Rasmus/1665/
Facebook Event: https://www.facebook.com/events/1520676824693105/
More on
The Rasmus