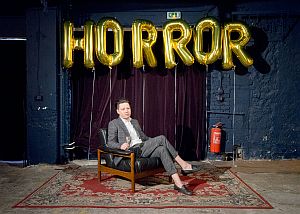 Philharmonie, Cologne, Germany
17th October 2018
Get Well Soon - "The Grand Horrorshow 2018" - Support: Sam Vance-Law

There are people who are afraid of nightmares and there is Konstantin Gropper. "I'm more excited about a bad dream," says the artist, who was releasing his fifth album, 'The Horror', on June 8, 2018. "I rarely dream so spectacularly that such nightmares are like inspirational gifts to me. I wake up and think: I have to make a song out of it." He has. He has processed three of his most confusing dreams and created a whole album full of orchestral music about the fear, which at first softly embeds his listeners, only to abduct them into even more abysmal spheres.
With cinematic arrangements and concept albums, Gropper knows his way around. Since ten years ago his debut, 'Rest Now, Weary Head! You Will Get Well Soon', showed how effortlessly large instrumentation, peculiar trains of thought and a crooner's voice in eternity in a shared room make the perfect pop album, he had his fingers in many areas in the game. He has written soundtracks for films and series, was in the studio as a producer with the German rapper CASPER and the Canadian pop-dandy SAM VANCE-LAW and still remains the pop-outsider with the solitary solo project.
As GET WELL SOON, he recorded songs that deal with stoicism or love and sometimes sound like an Italian Western, sometimes like a ghost ship on the Marimba Ocean, sometimes like the greatest hits of the 80s and 90s and sometimes like a warm blanket, under which the outlines of lost cities are emerging. No one else associates so many enormously absurd ideas with such beautiful songs far away from all fleeting trends, and thus creates their very own musical and thematic cosmos every time.
Tour-Dates

02.10.18 - Berlin, Volksbühne (sold out)
08.10.18 - Munich, Kammerspiele
09.10.18 - Munich, Kammerspiele
12.10.18 - Leipzig, Westbad Leipzig
17.10.18 - Cologne, Philharmonie
28.10.18 - Stuttgart, Theaterhaus
Additional Concert Info

Doors: 19:00
Start: 20:00
Tickets: are available for 34 euros plus charges (pre-sale) via
EVENTIM
and https://www.koelner-philharmonie.de/veranstaltung/121753/
More Info: http://www.schoneberg.de/konzerte-shows/kuenstler/details/get-well-soon.html
Facebook Event: https://www.facebook.com/events/363821070783531/
More on
Get Well Soon
and
Sam Vance-Law