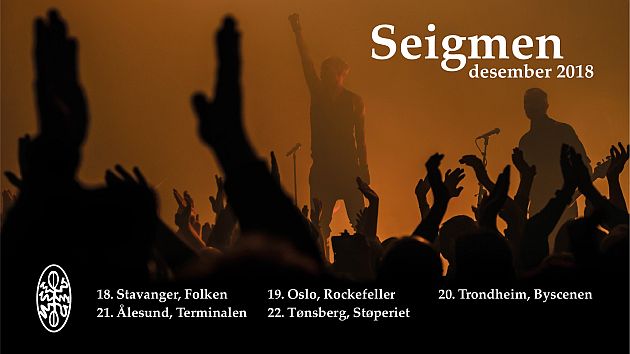 SEIGMEN is a legend in Norway. Back in the 90ies they entered the peak positions in the charts, sold out venues and reached cult status with their unique Dark Metal and Rock sound. Also their popularity abroad grew enormously while touring back in the 90ies with bands like PARADISE LOST and DREADFUL SHADOWS. But life happened, the musicians decided to go separate ways back in 1999. A few years later they started to reunite for some live gigs, but only in 2015 they came together (or actually this happened few years earlier) to produce and finally release the first new studio album after 18 years. 'Enola' was warmly welcomed by the loyal old and new fans and many gigs followed to present the new music live which is the supreme discipline of the band.
Though the last time SEIGMEN played in Germany was back in 1998, the huge surprise about a one-time show in Berlin in May 2018 and later the announcement of a gig at WGT festival the same weekend, were gratefully received by many fans who, even 20 years later, welcomed their idols like the time didn't pass at all. Furthermore, the year 2018 was quite calm for the band - a gig in May in their hometown Tønsberg happened and just a few days later the two historical dates in Germany. While mastermind Kim Ljung was about to play a few gigs with his another band ZEROMANCER in September and announced a new album with the third project LJUNGBLUT for autumn (and probably some gigs, stay tuned here as well!), nobody was actually expecting any news from SEIGMEN at the moment.
But the band from Vestfold County is always good for a surprise and SEIGMEN just announced a pre-Christmas tour in Norway, making stops in Stavanger, Oslo, Trondheim, Ålesund and Tønsberg. Picking up the youngest tradition of playing at least one gig in Tønsberg about the weekend before Christmas and expanding it this time, they are now giving more fans the chance to join in. While finally also fans from further more in the North / West of Norway get the chance to attend a concert again, hot tip for fans from abroad: flights from e. g. Hamburg to Oslo are very short (just around an hour on board) and reasonable and Oslo in December is definitely worth a visit. But don't think too long about buying a ticket, they are selling out very quickly.
Tour Dates

18.12.2018 Stavanger, Folken –
TICKETS
19.12.2018 Oslo, Rockefeller –
TICKETS
20.12.2018 Trondheim, Byscenen –
TICKETS
21.12.2018 Ålesund, Terminalen –
TICKETS
22.12.2018 Tønsberg, Støperiet –
TICKETS
More on
Seigmen