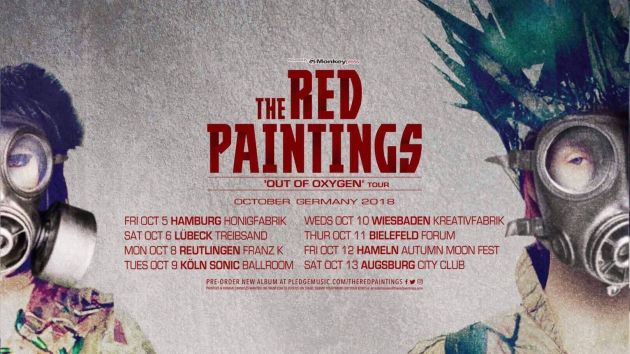 A little bit of Japan, a bit of Alternative Rock, colourful costumes, a brilliant live show: these are THE RED PAINTINGS. The Australian-British formation around vocalist and mastermind Trash Mcsweeny releases the new album, 'Anthems For Unwanted Wars' produced by Alan Moulder (NIN, Gary Numen, Queens of the Stoneage), in January 2019. However, the quartet is already on tour in Germany in October.
For the concertgoer, THE RED PAINTINGS is more than just "a band that is playing". With their extraordinary stage outfits, their energy and the unique show, which also features painting on human bodies, the five-member band around singer Trash captivate the audience. The sound of the Australian, London and Los Angeles-based musicians can be classified somewhere between Indie Rock and baroque Pop with a dash of Steampunk. With guitar, bass, violin and drums, Alternative Rock songs with soul are presented that take you into the future. If you love PLACEBO and IAMX, you will be extremely impressed by the rocking, deep sound of the five musicians and fall in love with the band at the latest during your concert visit.
Who has missed the quintet on their last trip to Germany together with DIE KRUPPS and JANOSCH MOLDAU, can make up for this now. THE RED PAINTINGS headlining Germany and Europe and will play more than 30 concerts.
Tour Dates

05 Oct 2018 - Hamburg, Honigfabrik
06 Oct 2018 - Lübeck, Treibsand
08 Oct 2018 - Reutlingen, Franz K
09 Oct 2018 - Cologne, Sonic Ballroom
10 Oct 2018 - Wiesbaden, Kreativfabrik
11 Oct 2018 - Bielefeld, Forum
12 Oct 2018 - Hameln, Autumn Moon Festival
13 Oct 2018 - Augsburg, City Club
More on THE RED PAINTINGS