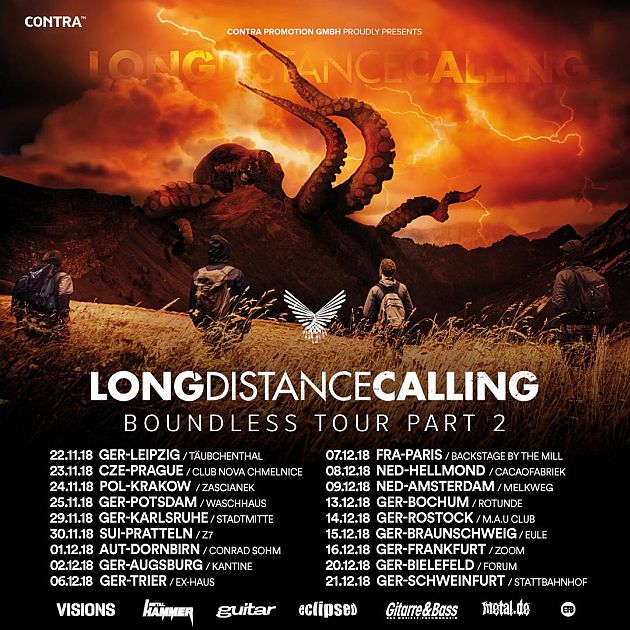 After a mostly sold out tour in early 2018 LONG DISTANCE CALLING are now coming back to the European stages in November and December 2018. Their current album "Boundless" received enthusiastic reactions by fans and press alike, having scored "record of the month" in various magazines across Europe. Besides a good number of new songs from the successful album "Boundless" they will also be including their classic tunes into their set.
LONG DISTANCE CALLING combine intense atmosphere with thrilling energy and take you on a unique sonic journey. Support f
or the tour will be the psychedelic doom rockers MOTOROWL. LONG DISTANCE CALLING comment, "We are happy to announce our special guest "MOTOROWL" and to have this talented band with us on our journey through Europe! Everybody can look forward to this exciting support act, there is much to discover musically. – Stay tuned, LDC"
LONG DISTANCE CALLING – BOUNDLESS TOUR PART 2
Special Guest: Motorowl
22.11.18 GER-Leipzig // Täubchenthal
23.11.18 CZE-Prague // club Nova Chmelnice
24.11.18 POL-Krakow // Zascianek
25.11.18 GER-Potsdam // Waschhaus
29.11.18 GER-Karlsruhe // Stadtmitte
30.11.18 SUI-Pratteln // Z7
01.12.18 AUT-Dornbirn // Conrad Sohm
02.12.18 GER-Augsburg // Kantine
06.12.18 GER-Trier // Ex-Haus
07.12.18 FRA-Paris // Backstage by the Mill
08.12.18 NED-Helmond // Cacaofabriek
09.12.18 NED-Amsterdam // Melkweg
13.12.18 GER-Bochum // Rotunde
14.12.18 GER-Rostock // M.A.U Club
15.12.18 GER-Braunschweig // Eule
16.12.18 GER-Frankfurt // Zoom
20.12.18 GER-Bielefeld // Forum
21.12.18 GER-Schweinfurt // Stattbahnhof
tickets available at: http://www.longdistancecalling.de/meet.html